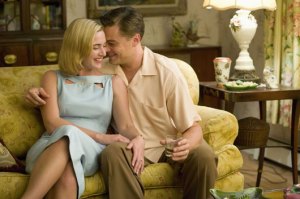 Revolutionary Road
Running time 119 minutes
Written by Justin Haythe
Directed by Sam Mendes
Starring Kate Winslet, Leonardo DiCaprio, Michael  Shannon, Kathy Bates
Sam Mendes' Revolutionary Road, from the screenplay by Justin Haythe, based on the novel by Richard Yates, unfolds in a vale of disillusion and disenchantment so dismal that it seems a strange project to come to market in a crisis-laden period of crumbling values. That is to say that the unsuccessful efforts of an initially idealistic couple to escape The Man in the Gray Flannel Suit conformity of the '50s may not strike contemporary audiences as ideal movie material. On the plus side is the charismatic reunion of Leonardo DiCaprio and Kate Winslet 11 years after their stellar performances in the all-time box office bonanza, James Cameron's Titanic (1997). In a sense, they have come together again in Revolutionary Road to appear on another slowly sinking ship, the ill-fated marriage of Frank and April Wheeler. Yates' novel has been favorably compared with F. Scott Fitzgerald's enduring classic of failed hopes in the roaring '20s, The Great Gatsby. Still, it is interesting that neither of the two film adaptations of Gatsby was successful. Some great novels are simply too despondent for the cinema. Besides, the stultifying effect of dead-end employment in America has become a lesser evil than the rising tide of unemployment that is becoming ever more desperate as we speak, however figuratively.
The film, like the book, begins with a disastrous opening-night amateur performance of Robert Sherwood's The Petrified Forest, in which Ms. Winslet's April Wheeler is enmeshed. Mr. DiCaprio's Frank Wheeler contributes to April's anguish in the dressing room with a tactless remark about the production's shortcomings. April asks Frank to excuse them to their friends so that they can go straight home from the fiasco onstage.
Fortunately, we are not made privy to the gruesome details onstage, as we were in the book. All we see is April waiting forlornly for a second curtain call from a hastily departing audience. On the way home, Frank and April quarrel so vehemently that at one point April gets out of the car and starts walking home. Frank has to coax her back into the car with a promise not to bring up the "issues" that divide them; we never get to see how they got together in the first place, aside from the chemistry between the two stars.
Yet they don't keep going downhill immediately. The next morning finds Frank and April and their two adoring children in a state of happy equilibrium. Frank goes off to work in Manhattan with a horde of men with hats on the commuter train from somewhere in Connecticut.
Frank works in a cubicle writing advertising copy for a company at which his father worked all his life. He gets along well with his bosses and fellow employees. Yet he seems to feel that he is meant for bigger and better things. Indeed, Frank and April have assumed from the beginning of their suburban tenure that they were superior to their neighbors. Consequently, Frank concurs when April comes up with the idea of their taking off for Paris with their two children so that Frank can "find himself" and decide what he wants to do with the rest of his life while she supports the family with the reputedly enormous salaries paid to secretaries at the U.S. Embassy. After some hesitation, Frank agrees to April's proposal if only to mollify her, and smooth over what has become an increasingly rocky marriage.
Frank's friends at the office cannot believe that Frank would be happy being supported by his wife. Frank and April's closest friends among their neighbors, the Campbells, Shep (David Harbour) and Milly (Kathryn Hahn), feel betrayed and abandoned by the Wheelers' decision, and try to point out all the difficulties they would face in Paris without a safety net.
Mrs. Givings (Kathy Bates) is another solicitous neighbor as well as the real estate agent who sold the Wheelers their home. She keeps bringing plants and other bric-a-brac to April so that April can brighten up her home, and April never knows what to do with them.
Still when Mrs. Givings asks April if she can bring her troubled son, John (Michael Shannon), to tea at the Wheelers, she says yes. John turns out to be the first person in the community to confront Frank and April over their supposed self-importance, and expose their motives in planning to go to Paris. John is frank to a fault as he debunks the entire suburban masquerade, not sparing himself and his mother in the process.
After all the hurt feelings of friends and neighbors over the proposed move to Paris, the realities of life pop up as obstacles to the trip.
First, April becomes pregnant, and immediately considers an abortion in her frenzy to get away from her present oppressive existence. Then Frank gets a promotion and a big raise on the condition that he abandon his announced idea of moving to Paris. When April realizes that the move to Paris is off indefinitely, she becomes increasingly morose and unloving, impelling Frank to find consolation in the arms of willing Maureen (Zoe Kazan), a young secretary at the firm. For April's part, she indulges in a one-night stand in a car with Shep Campbell, who has adored her ever since she first moved into the neighborhood with Frank.
In one of the bitterest marital scenes I have ever seen on the screen, Frank confesses his affair with Maureen, and April responds coldly by asking him why he even bothered to tell her since she had long since lost interest in what he did. Ultimately, I can't fault the excellent cast for becoming involved in such a depressing enterprise. Indeed, I wouldn't throw a tantrum if Ms. Winslet finally received her long overdue Oscar for her performance as April, or for her Nazi illiterate in The Reader, even though I still prefer Sally Hawkins in Mike Leigh's Happy-Go-Lucky. Why? I think now more than ever I am predisposed to intelligently happy movies over dire dirges like Revolutionary Road.
This is not to slight the impressive performances of Mr. DiCaprio, Mr. Shannon, Ms. Bates, Mr. Harbour, Ms. Hahn and Ms. Kazan. Certainly, Mr. Mendes, the director, had more than a little to do with this accumulation of artistries, as did Mr. Haythe, the screenwriter, with the lines he supplied the gifted ensemble. Yet it is typical that the movie retains the sardonically derisive ending of the book. It simply doesn't play as well as it reads.
asarris@observer.com