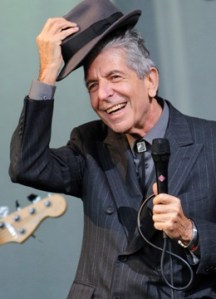 It almost goes without saying that the countless cover versions of Leonard Cohen's iconic "Hallelujah" loom larger than the original. This is rare—Bob Dylan's "All Along the Watchtower" is one of the few other instances that come to mind—but it isn't necessarily tragic. Cohen's 1984 version is marred by chintzy synths and regrettable production. What endures, clearly, are the lyrics—Cohen's masterful conflation of love, sex, religion, and violence.
Precisely the sorta things that the late Jeff Buckley picked up on when he recorded his own rendition for the 1994 album Grace. Ever since Buckley set the gold standard—he referred to the song as "the hallelujah of the orgasm"—the debate has raged over which of the more than one-hundred official covers might be better than Buckley's (or at least decent in their own right). Among them is, of course, Rufus Wainwright's edition from the Shrek soundtrack, but Dylan has also had a go at it, as have Jon Bon Jovi, kd lang, and Bono with his awful spoken-word cover.
Now the ageless battle has been thrown into the national spotlight in Britain. According to the Guardian, Alexandra Burke, fresh from her victory on X-Factor (think American Idol), has a full-bodied gospel take on "Hallelujah," and her followers have downloaded the darn thing more than 150,000 times since Saturday, making it the fastest-selling digital single in European history. All this has Burke's "Hallelujah" set to take the No. 1 spot when the official Christmas singles chart comes out on Sunday. Buckley fans, alarmed at Burke's ascension, have amassed their own forces, propelling their hero's "Hallelujah" to No. 3, according to an "unofficial provisional 'mid-week' chart." Should Buckley push his way past Leona Lewis and her cover of Snow Patrol's "Run" (doesn't anyone write their own songs anymore?), a single song would claim the top two chart positions for the first time in history.
As for whose cover is better, it all depends on who you're talking to. Burke's fans will obviously point to her No. 1 single, while Buckley's, highlighting the unlikely resurrection of a 14-year-old song, will claim their own victory. In the end, you can be sure that Cohen—swindled out of millions by his manager—will appreciate the nice £250,000 paycheck.
And just for the record, Buckley owns the definite "Hallelujah."