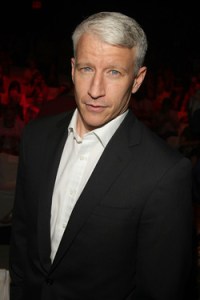 "It's like every time I look up, I see a dead monkey or a dead elephant," a publicist was musing to a bartender at the post-screening cocktail party for the latest installment of CNN's Anderson Cooper-hosted special, Planet In Peril: Battle Lines, on Tuesday evening. Images from the special were being projected on the flat-screens around the room. "Wonderful. I don't think this music is appropriate," she shouted over the lounge-jazz being piped into the Time Warner Center's Stone Rose Lounge, "but we didn't want this to be a downer."
And it wasn't! Well, kind of; after all, it was a party for a documentary about some of the worst regions in the world, ravaged by war and human carelessness!
Anyway. Mr. Cooper, his co-hosts, and assorted CNN brass made their way in after the screening of the special (airing this Thursday night), flanked by leggy hors d'oeuvres and cocktail carrying waitresses, and a smallish media crowd including The Daily Beast's Tina Brown and The New York Post's Cindy Adams.
Mr. Cooper quietly filed in without much fuss, making his way through the room so he could get back to… working on the documentary the party was for. "I've been in the editing room all day, I'll be there tomorrow, I'm going to go do my show right now," he told the Daily Transom. "We worked on this from the end of last year to now. We're still editing it, still tweaking it."
He added: "For me, it's become part of my normal life to do this kind of traveling. But I don't find going to a beach and sitting there all that relaxing. I'm trying to work a story over Christmas week; I may not be able to get one."
As for any call to action or intention the highly political, mostly anti-corporate agenda Planet In Peril suggests, Mr. Cooper noted, "A lot of the action that's required is large-scale action. It's governmental action. It's all well and good for an individual to turn off their lights, and conserve in their own life, and certainly, I'm not one to discourage anybody doing anything. But these are governmental changes. But I think it starts with education, changing consumer demand, changing traditions—eating shark fin soup, using ivory—whatever the case may be."
The images on the TVs rolled on throughout the party: gun-toting warlords, piles of ivory husks, the aforementioned dead monkeys. NPR contributor Mo Rocca, though, was having a blast. He stood near CNN chief Jonathan Klein; Mr. Klein picked a chicken meatball off of a tray while Mr. Rocca filed his grievances with the network head: "I wanted to know what happens to the planet in the end," he said, straight-faced. "I thought Shirley Bassey was going to perform the Planet In Peril theme song. I also wanted to know how they kill off [Planet In Peril co-host] Jeff Corwin. Also, [Peril correspondent Lisa Ling] was an amazing BatGirl."
The danger and suspense Mr. Rocca saw wasn't quite there for those actually in the doc. "No [medical maladies] that were unsuspecting," noted Dr. Sanjay Gupta, CNN chief medical correspondent and one of Mr. Cooper's co-hosts. "But I remember: I was with this infectious disease doctor; all of a sudden, I couldn't feel my left leg. I [told him] thought that it was because of one of the bites. I told him, 'Hey, I can't feel my left leg anymore. 'He told me it was probably from all the hiking."