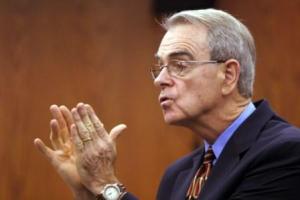 Joe Hayden, a prominent defense lawyer whose name has surfaced in legal and political circles as a potential pick for U.S. Attorney, took his own name out of the mix today.
"It is an honor that people within the legal community suggested that my name be considered as a candidate for the next United States Attorney," said Hayden in response to an inquiry from PolitickerNJ.com. "I have reflected upon it, but I am convinced that I have longstanding commitments to clients — a half dozen clients — that would not make this possibility feasible."
Hayden represents Bergen County Democratic Chairman Joe Ferriero, who was indicted in September on eight corruption counts. He also represents former Nets star Jayson Williams, who faces a retrial for manslaughter over the shooting of his limo driver in 2002.
In 2006, Hayden called the U.S. Attorney's office on behalf of U.S. Sen. Bob Menendez (D-Hoboken) regarding information on the subpoena served to Menendez in the heat of his campaign against state Sen. Tom Kean, Jr. (R-Westfield). At the time, Menendez said he had not retained Hayden.
Although the next U.S. Attorney will be appointed by President-elect Barack Obama, custom dictates that the leading candidate will be suggested by Menendez and fellow U.S. Sen. Frank Lautenberg (D-Cliffside Park).
"I am sure our United States Senators will recommend an outstanding candidate," said Hayden.
The current U.S. Attorney is Ralph Marra, a career prosecutor who took over the office when Chris Christie resigned at the beginning of this month.