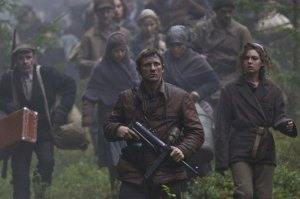 "This story is amazing in its own right … apart from being a Holocaust story. That's important, I think," said director Edward Zwick recently, sitting on the sunny rooftop of the Gramercy Park Hotel. The 56-year-old director was in town to discuss his latest film, Defiance, the incredible true story of the Bielski brothers, who hid in the forests of Belarus during World War II, fighting off the Nazis, and were responsible for saving over 1,200 Jewish lives. The movie, which stars Mr. James Bond, Daniel Craig; new daddy Liev Schrieber; and little Billy Elliot (all grown up!), Jamie Bell, opens at the Ziegfeld on Dec. 31 before opening nationwide on Jan. 16.
The previous evening, Mr. Zwick had screened the film for relatives of the Bielskis, in addition to other Holocaust survivors and their families, at the Museum of Jewish Heritage in Battery Park City. It was an emotional two hours, punctuated with audible sniffling, and cheers during the courageous battle scenes. One of the more striking things about seeing any film set during that horrific period is the realization that, in the grand scheme of things, 1941 just wasn't that long ago. With that in mind, Mr. Zwick spent the day taking portrait photographs of the survivors. "These people that I was with yesterday, they are in the 11th hour," he said. "I was very close to my grandfather, and after he died, I didn't realize how much I missed that sound, that shtetl accent. Within 5 or 10 years, that sound will be gone, as well as any living witness." He paused. "That's the thing about Jews, is that memory and the repetition of memory is central to the culture. That's what the Passover Seder is: the retelling. I think that oral tradition has been accountable for the survival of these people."
The film was a hard one to make, both emotionally and physically, with the cast and crew spending five long, cold months in Lithuanian forests. "The interesting thing about it was that when you are in a hard place, the company tends to bond," Mr. Zwick said. "We were all sort of there for one another." The dashing Mr. Craig (playing a Jew for the second time!) was an actor Mr. Zwick had met when casting his last movie, Blood Diamond. "I liked him, but the studio was basically like, 'Who's he?'" (Needless to say, this was before Mr. Craig was a.k.a. James Bond.) "Or they said, yeah, you can make it—we'll give you 12 dollars," Mr. Zwick laughed. About a year later, on his way to Africa to shoot Blood Diamond (with Leonardo DiCaprio and Jennifer Connelly), Mr. Zwick found himself on the same flight to England as Mr. Craig. They had a nice conversation, and by the end of the flight, Mr. Zwick had him firmly in mind for when he finished the Defiance script. "Daniel is a wonderful fellow. He's a working-class actor who happens to be a big movie star now. Five minutes into this [Defiance], you forget all about James Bond."
Like many of the director's past films (Glory, Legends of the Fall, The Last Samurai), Defiance is big and beautiful, almost old-fashionedly so, unafraid to nudge at your emotions.
"A lot of people find fault with that," said Mr. Zwick. "I think we go to the movies to cathart and be transported, but there are some people who are suspicious of that," he said. "I think there's been a tilt in modern criticism that feels that any kind of emotionality is by nature manipulative and that that's exploitive in some way. It's how the theater began, it was its purpose … and I am unapologetic. I think there's a certain admiration for things that are more flinty and unsentimental, defiantly unsentimental. I'm not sure people understand that to reach genuine deep feeling, when earned, is extremely difficult."
Surprisingly, Defiance also has sprinkled moments of grim humor. "People ask about that and my response is always, well, they're Jews," said the (obviously) Jewish director with a grin. "They're funny and they're dark—the darker the humor, the better." The Illinois-raised Mr. Zwick, who was educated at both Harvard and the American Film Institute, now resides in Santa Monica with his family. Did working on this film make him feel more connected to his faith? "Faith … and the Holocaust is a very tricky subject," he said. "Connected to a people and a tradition, yes, certainly. It's one thing to try to reckon the immensity of the Holocaust from afar, it's quite another to be up close in any way and come to understand just what it was." He paused. "Vilnius [in Lithuania] is this beautiful city, but it's been cleansed … and it's ghoulish, and then you think about how many other cities that this has happened and one just can't help but feel … there but for the grace of God."
svilkomerson@observer.com