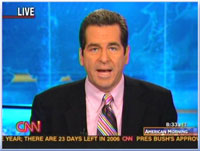 Yesterday, Chris Ariens of TVNewser broke the news that CNN was letting go veteran correspondent Miles O'Brien and several veteran producers as part of a broader dismantling of the network's science, space, environment and technology division.
"Now that the bulk of our environmental coverage is offered through the Planet in Peril franchise, which is part of the AC360 program, there is no need for a separate unit," a CNN spokesperson told Mr. Ariens.
"In television news, a nearly 17-year stint at one shop is more than just a good run — it is an epoch," Mr. O'Brien said in a prepared statement.
Afterwards, a number of writers, including some former CNN veterans, criticized the decision.
Over at The Columbia Journalism Review, Curtis Brainard writes that CNN is not the only network slashing science reporting jobs and that "the decision to eliminate the positions seems particularly misguided at a time when world events would seem to warrant expanding science and environmental staff."
More from the article:
A source at the network, who asked not to be named, said the move is a strategic and structural business decision to cut staff, unrelated to the current economic downturn. Financially, 'CNN is doing very, very well,' the source said, and none of the health and medical news staff has been cut. Yet the big question, of course, is whether or not the reorganization will decrease the overall amount of CNN's science, technology, and environment coverage. CNN says no, but it's hard to imagine that it won't—Anderson Cooper or not, fewer people is fewer people.
Elsewhere, former CNN producer Chez Pazienza criticizes the cuts in light of the network's ravenous shopping spree, which we wrote about recently.
From the post:
Although it's almost superhumanly ironic that [CNN U.S. President Jon] Klein is willing to pay for the silly technology but not for the technology unit, it shouldn't really surprise anyone at this point. He's proven time and time again where his priorities lie — and they're nowhere near the maintenance of true journalistic excellence. It would be amusing if it weren't so sad that Klein's pride in the ability to create a phony, 'holographic' image of a human being now acts as a kind of metaphor for his entire way of thinking. He's become the George Lucas of the TV news universe: tinkering like a mad scientist to create a soulless, graphically enhanced feast for the eyes — minus the actual people required to breathe life into it—just because he can.
Finally, erstwhile CNN Internet reporter Jacki Schechner also criticizes the network's decision to let go of Mr. O'Brien and his colleagues, writing, "I can't say enough great stuff about him… To hear he's being let go—along with 6 other producers—is a real disappointment."
"These are veteran producers who worked tirelessly behind the scenes for years," she adds. "No flash. No ego. Just amazing guys who knew their stuff and wanted to put out the best news possible as often as possible. To say I'm livid would be an understatement."