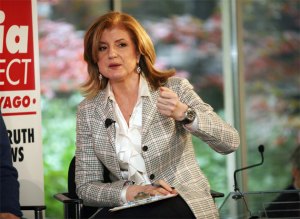 The Huffington Post's Media vertical alerts us to the fact that The Huffington Post's founder and namesake, Arianna Huffington, has been named 'Person of the Year' by I Want Media.
According to the Huffington Post piece, "Arianna Huffington beat out contenders like Tina Fey, Rupert Murdoch and the Laid-Off Journalist to win I Want Media's Person of the Year 2008."
After quoting I Want Media's writeup ("[Arianna] Huffington had a big year in 2008, guiding her liberal-leaning news and blog site to record traffic during the U.S. election season"), The Huffington Post offered "Thanks to everyone who voted." For Ms. Huffington.