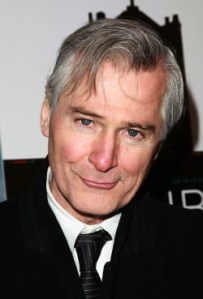 John Patrick Shanley is the playwright, screenwriter, and director of Doubt, a film adaptation (starring Meryl Streep, Philip Seymour Hoffman, Amy Adams, and Viola Davis) of his Pulitzer-winning play about a nun who suspects a priest at a Catholic school in the Bronx of sexually abusing a young black student.
Monday afternoon, Mr. Shanley stood among friends, publicists, and Miramax president Daniel Battsek at a luncheon at the Four Seasons hosted by Peggy Siegal in honor of the film.
"To take a play with four characters and turn it into a feature film seemed pretty challenging until I realized that I can shoot the neighborhood I grew up in, I can shoot the priests in their rectory, the nuns in their convent, I can show the kids in their classrooms," said Mr. Shanley, who shot the film in the Eastern Bronx. "It made a lot of sense to grow this small thing, the play, to a bigger canvas that you can show more of."
This is the first project that Mr. Shanley—who has written plays like Women of Manhattan (1986) and Dirty Story (2003), as well as screenplays for  Moonstruck (1987) and Congo (1995)—has nursed from writing the play, to writing the screenplay, to directing the film adaptation. The Daily Transom wondered if he missed having the constant creative challenges that he would typically get from a director or a screenwriter—roles, that in this case, he has himself occupied. 
"Oh, there is always plenty of people second-guessing you on a film set in the best sense of the word—very smart people who worry deeply that they're going to lose their money and stay up nights thinking of what could go wrong and then bring it up to you," he said. 
The playwright attended St. Anthony's School in the Bronx, which he used as the inspiration for his story.
"I was thrown off the altar boys for drinking altar wine; I was thrown out of the hot lunch program for throwing anything I didn't like over my shoulder as hard as I could," he recalled. "And I was thrown out of high school for saying I didn't believe in God, which wasn't even true, but I wanted to start an argument."
As far as the cast is concerned, Ms. Streep and Mr. Hoffman were the director's first picks for their respective parts. Ms. Adams came to Mr. Shanley interested in the part of Sister James, and Ms. Davis was recommended by the film's producer, Scott Rudin. ("I screen-tested her and she blew the entire crew away," said Mr. Shanley of Ms. Davis.)
"Yes, I guess I did," Ms. Davis said. "I wish I knew that I blew them away. Maybe I would have been less stressed out afterwards." 
Mr. Shanley at one point became known for insisting in his contract that not a single word of his screenplays can be changed if ever adapted—something that the playwright wanted to clarify.
"The real story is that I wrote several movies in a row and when someone wanted to make them, I would go and I would meet with the director, with the script in hand, and I'd say, 'Do you want to make this script? Or is this like the basis of or something like that?'" he explained. "If they agreed, then I would go into business with them and sign a contract. But I own the material so I wouldn't sign it unless they agreed."
We wondered why other screenwriters don't do the same thing to ensure creative control. 
"It's hard to get away with that and you have to be willing to go home," he said.