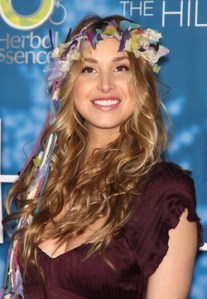 Last night, an already suspicious viewership tuned in to MTV's latest spinoff-of-a-spinoff, The City, a chronicle of robotic LA-transplant Whitney Port's wan adventures as a Diane von Furstenburg "employee" in Manhattan. Along for the ride are "co-worker" and grasping socialite Olivia Palermo, who has apparently decided to trade in the  crumbs of her Upper East Side credibility in exchange for vague national face recognition, and Jay Lyon, the Australian frontman of very little known band Tamarama and Ms. Port's official love interest.
There's also "downtown" girl Erin (who lives in Gramercy), a longtime friend of Ms. Port with no distinguishing characteristics (see also: Adam, Mr. Lyon's partner in… something). In the double episode premiere, we watch Ms. Port backstage at Fashion Week in the first days of her entry-level PR job, learn that downtown residents like fedoras and neon wall paint while uptowners host undermine-y dinner parties, and witness a non-physical confrontation between a bunch of gossipy boys at Tenjune. It was all fairly bleak, devoid of even the guilty pleasure crunch of parent show The Hills. The morning-after analysis didn't mince words.
From The Cut: "Whitney looks bored as all hell when she arrives at the Diane von Furstenburg office for her first day of work. Olivia Palermo arrives, and they have one of the most staged reality-TV conversations in history about who Whitney and Olivia know. Because everyone knows New York — excuse us, The City — is all about who you know. And don't you know Whitney? Everyone knows everyone. Throughout this fascinating discourse, Olivia looks at Whitney like she wants to jump out from behind her desk and suck the blood from her neck, while Whitney looks, as usual, oblivious to Olivia's and her own feelings." 
From Gawker:  "At the dinner party, while they tried to look all louche and exclusive and clucked their tongues at their mama's way of doing the boy, girl / boy, girl seating, they just came off as eight year olds wearing way-too-big blazers and silly hats that didn't fit their tiny heads. If I wanted to watch dress up time, I'd go down to the elementary school. Yes I would be arrested for suspicious lurking, but I would see some honest to goodness dress up before that happened. Here it was just overgrown, bulbous entitled idiots dancing and dancing, unaware that in a few short months, so very much of it would disappear."
From Jossip: "Olivia seems to want everyone to know she's 'in' on the joke of being on reality TV, but she just comes up as an uber-condescending bitch…People on this show love weird hats. Alex's roomate/best friend used to date Jay. 'She's a model' is a theme for this show, as is the phrase 'small world.'"
From Television Without Pity: "Whitney admits to Jay that he saved her, and he pretty much immediately suggests they leave. Whitney agrees, and they take Erin with them, dropping the party's cool person quotient back to zero. And in case you need proof of what irredeemable bastards these people are, Erin tells Whitney on the way out that some guy at the party called her a hooker. Nice."
From, uh, the MTV Remote Control blog: "Now, we don't like labels one bit, so we're not going to tell you that our eyes bleed every time we go above 14th Street, or that Bergdorf Goodman's cosmetics section gives us hives. We will tell you, however, that not all of these geographical stereotypes ring true. Not all Upper East Siders dress like Gossip Girl characters and throw fancy dinner parties with placeholders. And not all Lower East Siders suck at relationships and could benefit from a haircut."