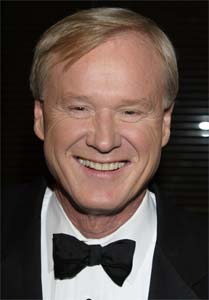 With a run-off in Georgia set for Tuesday and a lengthy recount still ongoing in Minnesota, not all of this year's Senate races have been resolved. And yet it is a contest that won't even take place for two years that has arguably stirred the most interest this past week.
For months, it's been obvious that Chris Matthews would like to return to his native Pennsylvania and run for Arlen Specter's Senate seat in 2010. He's done nothing to silence media speculation that he'll be a candidate, declared on national television, "I want to be a senator," and even addressed the subject with top-tier Democratic donors. He's also turned his MSNBC show into something of a showcase for major players in the media and political worlds of Pennsylvania, all of whom will play a key role in their state's next Senate election. (Matthews has also been known to incessantly drop the name of "Eddie" Rendell, Pennsylvania's reigning Democratic governor.)
But the chatter took on new urgency in the last few days, with news that Matthews recently convened a meeting with Democratic leaders in Pennsylvania to discuss the 2010 race and also that he's actively seeking Obama campaign veterans to staff his prospective campaign. Mindful of prematurely losing his daily national platform on MSNBC, Matthews has (at least in public) been careful to talk around the specifics of his thinking. He called the staffing report "absolutely not true," for instance," though he has studiously avoided making any statement that might defuse talk of his candidacy. Clearly, this is a man looking to run.
But can he win?
The short, and obvious, answer is yes. Pennsylvania, as this year's results again affirmed, is a Democratic state in a Democratic region. Increasingly, voters in the Northeast, once a bastion of moderate Republicanism, have been turning on Republican office-holders simply because of their association with a national G.O.P. that is now dominated by religious conservatives from the South. This automatically makes Specter, despite his middle-of-the-road instincts on numerous issues, an endangered pol.
And it's not like Specter is all that beloved in Pennsylvania: He won 53 percent of the vote in his 2004 re-election campaign, came within an inch of losing that year's G.O.P. primary, and was nearly unseated by Democrat Lynn Yeakel in 1992. For Matthews, as with any potential Democratic nominee, this would be a winnable race.
Plus, Matthews knows a thing or two about campaigning. He unsuccessfully ran for Congress in 1974 and worked as a staffer to Tip O'Neill before turning to the media world, first as a columnist for the San Francisco Examiner and then as a television personality. A Matthews campaign wouldn't be a case of a naïve journalist trying his hand at politics; it would be more like Pat Buchanan, a Nixon and Reagan aide-turned-columnist and CNN host, deciding to become a candidate for office.
Still, none of this means that that Matthews would be a particularly strong candidate.
First, a reality check is probably in order when it comes to his "celebrity," which supposedly would fuel his campaign. A recent Quinnipiac poll found that fully 60 percent of Pennsylvania voters don't really have any idea who Matthews is, despite his decade-plus run as an MSNBC personality, his numerous appearances on other news and entertainment shows, and his occasional role as the subject of a "Saturday Night Live" parody.
In a state as large as Pennsylvania, this is still better name recognition than the average congressman enjoys, but it hardly constitutes an overwhelming advantage. There is probably a tendency by political junkies to overstate Matthews' significance to the average voter, since Matthews' show is part of many junkies' daily diet. But the "Hardball" audience is generally less than one million viewers, spread out over all 50 states. To the majority of Pennsylvanians, the mention of his name generates only vague familiarity, at best. Not surprisingly, the same Quinnipiac poll found Matthews lagging 12 points behind Specter, 45 to 33 percent.
This makes it unlikely that Matthews would receive a free pass to the Democratic nomination. There are many ambitious Democratic politicians in Pennsylvania, and a chance to move up to the Senate doesn't come around often. Joe Sestak, a retired Navy vice admiral who won a Congressional seat from the Philadelphia suburbs in 2006, has encouraged talk of a future Senate campaign – and is also sitting on around $3 million in campaign funds. Allyson Schwartz, a congresswoman also from the Philadelphia area, also seems interested. In a crowded field, she could benefit as the sole female candidate. Other names figure to emerge. Defeat in a Democratic primary would be a very real prospect for Matthews.
Here, a comparison can be drawn to Al Franken, a celebrity candidate who had little problem securing the Democratic Senate nomination in Minnesota this year. Franken was probably about as well-known as Matthews at the outset of the campaign, but among much the Democratic base he was a beloved figure, having authored a series of best-selling books that savaged prominent conservatives. This made it difficult for Democrats to deny him the nomination. Matthews, though, is a more polarizing figure among Democratic activists, as well known for his critiques of the Iraq war as he is for his assaults on Bill and Hillary Clinton. He would not command the instant affection of his party's base, as Franken did in Minnesota.
The Franken comparison is also noteworthy because of how his campaign seems to be ending: on the short end of a very winnable race. Minnesota, like Pennsylvania, is a Democratic stronghold where voters feel alienated from the Sun Belt-centric national G.O.P. Norm Coleman, the Republican senator up for re-election this year, was a supremely ripe target for Democrats. But he appears likely to survive, mainly because he used Franken's celebrity to make the race as much a referendum on the challenger as the incumbent.
Something similar could happen to Matthews. No, he's not as much of a comedian (at least not intentionally) as Franken was, but he has consistently used his various media platforms to make utterances that vary between inflammatory and just plain weird – like his infamous comment about "a thrill going up my leg" while Barack Obama spoke earlier this year. He's also fond of talking about racial and gender politics in dated and almost stereotypical terms, as evidenced by his obsession with Hillary Clinton's wardrobe and physical appearance. As with Franken, Matthews could find his own words being recycled into damaging television ads and talking points, either in the general election or in a primary.
You can't blame Matthews for taking a shot at this. He says he's always wanted to be in the Senate and now he has an opportunity to run for it. But if Pennsylvania's Democrats end up deciding he's not their best bet to take out Specter, well, you can't blame them for that, either.