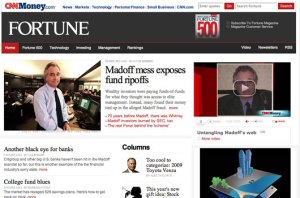 Last week in Off the Record, we wrote that some magazines, faced with the same unenviable task of having to let some staff go, are choosing to get rid of their Web-only contributors first. Fortune is one of the magazines that has disbanded the vast majority of its Web-only team.
In last week's story, one former Fortune staffer described fortune.com by saying: "It's nothing now. There won't be any more fortune.com original content in the near future."
The folks at Fortune have objected to that statement. Their spokeswoman, Ali Zelenko, has sent in the following response:
This quote, from a staffer who was recently laid off, is flat out wrong. Just log on to fortune.com–or look at the screenshot that ran with the Observer story–and you will see an abundance of original, web-only content, including a stellar collection of reporting on the Madoff scandal which has both broken news and drawn record visitors to the site in the last week alone. The plan for fortune.com is to make it more robust by having Fortune writers and editors contribute more heavily and frequently to the site–which is co-managed by Fortune and cnnmoney.com, as it always has been–and, as the Madoff example shows, it's already paying off. We've also recently launched Fortune Tech Daily and Daily Investor, with plans to launch many others in addition to existing blogs that are regularly updated, such as those by Fortune's Pattie Sellers and managing editor Andy Serwer. Unfortunately the Observer story leaves readers with the impression that fortune.com is moving away from putting original content on the site, when in fact the exact opposite is true.
Fortune staffers have been encouraged to write more for the Web site. Richard Siklos, a Fortune editor at large, told us that when he started at the magazine last year he volunteered to write a column for the site once a week.
Nonetheless, it is true that Fortune writers—because of their membership in the Time Inc. Guild—are not required to write for the Web, either. As Time Inc. editorial chief John Huey wrote in a memo to Fortune staffers two months ago, "Although we certainly hope that everyone will see the dot com platform as a vibrant and exciting enhancement to the readers' experience, we want to be clear that Guild-covered employees are not required to contribute to the Web sites as part of their jobs," he wrote, "and will not suffer any negative impact as a result of not contributing."
So the question might be, how much material will Fortune editors be able to rely upon from its print staff? Plenty, seems to be Ms. Zelenko's answer.