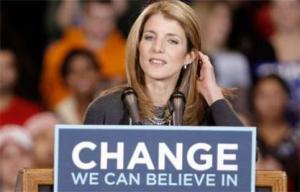 ALBANY—A poll shows voters are reasonably cool to Caroline, but she's still who they expect Governor Paterson to appoint.
Forty-one percent of the 834 New York voters think she is not qualified to hold the seat, compared to 40 percent who do. But 46 percent of those surveyed thought she would be a good senator if appointed, and she slightly leads Attorney General Andrew Cuomo – by four percentage points – as the person who Paterson "should" pick.
Almost half of those surveyed expect that Kennedy will be appointed. The expectations and desire figures are similar to a poll released last week, but the question of her qualifications is new. It echoes a line of criticism that has been circulating since Kennedy officially floated her candidacy last week.
Quinnipiac University conducted the poll between December 17 and 21.