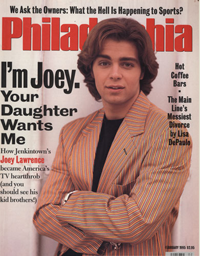 Speaking of striking magazine covers, this month, Philadelphia Magazine its 100th birthday with a special Philadelphia Century issue that features a great centerfold of 100 magazine covers that have defined the magazine since April 1908.
The gallery (which unfortunately is not online) is an interesting snapshot of the 20th Century: April 1945's "When He Comes Home" offered a smaller take on the end of World War II; October 1969's "Revolution in Youth Fashion—featuring an Afro'd African American woman and her ring-festooned clenched fist—gave new meaning to radical chic; May 1987's "AIDS in Philadelphia" spoke to a suddenly mainstream concern among the upper-middle class; and the October 2001 cover was an almost all-black 9/11 tribute.
But we were most struck by the February 1995 cover featuring Blossom's un-tweezed, non-threatening boy star Joey Lawrence. (For those who don't remember him, Mr. Lawrence was that year's—month's?—Jonas Brothers.) Beside Mr. Lawrence is the surprisingly direct come-on: "I'm Joey. Your Daughter Wants Me."
As Mr. Lawrence himself might say, Whoa.