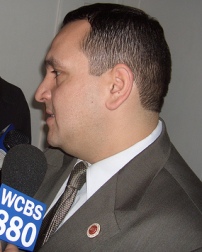 I'm sitting in a discussion on economic development sponsored by the Working Families Party, and State Senator-elect Hiram Monserrate is late for his speaking engagement.
Peter Colavito, the political director for 32BJ, just called for him and was told he's "five minutes" away. Assemblyman Richard Brodsky just spoke.
Senate Democrats — including Monserrate — are meeting at 250 Broadway. Going into the meeting it was no secret that there was "considerable discomfort."