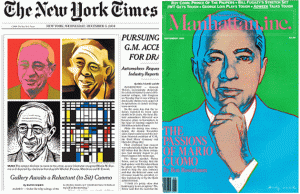 Readers of the print edition of The New York Times—they're out there somewhere—were treated to a bit of creative whimsy in the art accompanying Danny Hakim's A1 story about former New York Governor Mario Cuomo's unwillingness to pose for an official portrait.
To illustrate the story, the paper used four imaginary portraits by illustrator Thomas Fuchs done in the signature styles of Andy Warhol, Pablo Picasso, Piet Mondrian, and Robert Crumb. (The images can be seen here.)
And while readers should be thankful Mr. Fuchs didn't go for, say Francis Bacon or—shudder—Jake and Dinos Chapman, the illustrator needn't have bothered with the Warhol knockoff since Mr. Cuomo has already been portrayed by the artist for the September 1985 cover of Manhattan, Inc..
The magazine—where this paper's editor, Peter Kaplan was executive editor and our art director Nancy Butkus was a designer—commissioned the artist's work to accompany a profile by Ron Rosenbaum.
Ms. Butkus recalled the cover's genesis in an email:
Ron Rosenbaum and I flew to Albany to shoot Cuomo with photographer Deborah Feingold but the shoot didn't go that well. Cuomo was stiff and the photos turned out to be very boring headshots. So I called Andy for a redo, got thru and he readily agreed so I sent him Deborah's photos to use for his silkscreens. I told him the fee was 1000 plus 500 in expenses. A couple days later, the finished silkscreen arrived with the bill, exactly 1000 plus 500 in expenses, nothing itemized and no receipts but we paid it.
I noticed he had not signed it, no surprise since I was sure he just gave it to one of his assistants to do, after all, it was a Factory. I called, complained and got a small piece of paper later that day with his signature, which we put on the cover. I later gave the signature to an artist friend.
He still has it.