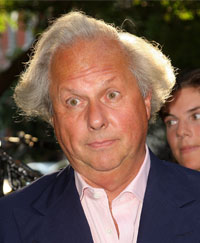 At today's Newhouse panel at the Plaza, moderator Ken Auletta asked all three Condé Nast editors on the dais—Vogue's Anna Wintour, Vanity Fair's Graydon Carter, The New Yorker's David Remnick—how they felt about the future of magazines. Would the crisis that's currently afflicting the newspaper industry take its toll on magazines?
As they've said before, these editors think everything will be just fine!
"I think we've been in difficult times before and we've come out of them and I'm sure that we will again," said Ms. Wintour.
"If your magazine—or your company, whatever it is—has a point it can do well in tough times," said Mr. Carter.
"I think magazines have a future!" said Mr. Remnick.
Each of them essentially said: Sure we will use the Web, and it's a fine thing, but magazines will continue to survive because they provide something totally separate from the Web experience. In other words, they laid bare the entire Condé Nast Web strategy: Sort of committed.
During the Q&A that followed with the audience, which included over a hundred advertisers, media reporters, Condé Nast executives, and flacks, Joe Nocera of The New York Times lashed out at the editors and asked how each of the them could be so sanguine about the future.
Mr. Remnick got defensive.
"Joe, no!" he said. "(A), we're not sanguine. Or blithe. We think about it all the time. There are meetings about it all the time. We're each thinking about this. Constantly. The quesiton that Ken asked was 'Do your magazines have a future and are they in any way different than newspapers? I think magazines that mean something are going to find a way to have a future. … Sanguine or blithe about it? That's not the way to describe it, Joe."
Graydon Carter chimed in and said that they're not sanguine either.
"All three of these magazines are, you know, a few years on either side, 100 years old and we've been through many ups and downs," he said.
Well, at least that takes care of Vogue, The New Yorker and Vanity Fair. But what about everyone else?