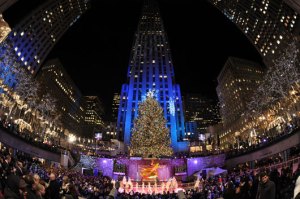 On Friday, Dec. 5, a crowd of anchors, reporters, producers and executives from New York's WNBC-4 was gathering in the long early-morning shadow of the Rockefeller Center Christmas tree for its annual taping of a holiday singalong that has served for years now as the station's local promotional holiday-season piece.
Historically, the singalongs have been festive occasions. But in the dark days of 2008, every office get-together can become fraught with fear and anxiety. Friday's ritual song of holiday gratitude was no exception.
It's been a rough year at the station, and as the group multiplied, the stars who were showing up—like longtime anchor Chuck Scarborough—was this year attracting less interest than who wasn't.
The previous afternoon, station staff had received a memo from union reps warning them that the long rumored staff reductions for on-air reporters and anchors was at last at hand.
And as the singing began, the group was taking its quiet roll call. It would be difficult for the station to edit out laid-off employees from its cheerful salute to the season.
Where was Sue Simmons? There has been a long simmering rumor that management was angling to buy out the veteran, beloved anchor. Did her absence mean something? (A knowledgeable source later assured The Observer that there was no truth to the rumor.)
Hadn't reporter Monica Morales just been in the studio, working a pre-dawn shift for the morning news? In the days before, she had told colleagues that she was excited to sing "Jingle Bells." But now ("Making spirits bright …"), she was missing. Also absent: Vickie Burns, one of the station's new managers, charged with executing many of the ongoing changes.
In the months leading up to the holiday promotion, WNBC had been in upheaval. The bosses at NBC Universal were in the midst of trying to build a new business model for their local TV stations, and were testing it out at WNBC, in part, by dismantling the traditional newsroom and replacing it with something called a "content center." Along the way, many veteran staffers have quit or been let go.
"We're standing there singing 'Jingle Bells,'" said one staffer. "Meanwhile, people who have been there for quite some time are being cut down in some human resources office."
Sure enough, as it turned out, management had intercepted Ms. Morales long before she could make into the chorus. By the end of the day, word had spread that others had been let go, including sports man Otis Livingston, Long Island–based correspondent Carolyn Gusoff and weathercaster SallyAnn Mosey.
Later that night, according to sources, Phil O'Brien, the executive producer of the 11 p.m. news—who had recently been enlisted to teach basic news writing to the growing ranks of "content producers" and "platform managers" hired to staff the new "content center"—also packed up his belongings and left the station.
"If we all thought morale was as low as it could go a few weeks ago, this shows that we haven't seen the worst of it yet," said a second staff member. "I've never, ever seen anything remotely like this. People are just walking around like ghosts. They just don't know: What's the next surprise?"
By Monday morning, station staffers were comforting themselves with a Tina Brown essay on the rank stupidity of managers in the struggling media businesses, and fantasizing about forwarding it to NBC Universal's chief, Jeff Zucker. 
"What do cars, debt risk, and collapsing television networks have in common?" wrote Ms. Brown on the Daily Beast. "The suits running them all lose sight of what they condescendingly call 'product'—i.e., whatever it was that motivated the company's spirit of excellence in the first place. The trouble is, those guys and their appointees don't seem to be the ones who are leaving, do they?"
In fact that afternoon, Mr. Zucker appeared to address just that comparison after he delivered the keynote address to the annual UBS media conference at the Grand Hyatt New York ballroom, where media entrepreneurs, investors and bankers enjoyed plates of moist steaks, braised carrots and piles of mashed potatoes.
"We're in an era where, if we don't change the model of these local television stations, we will be newspapers," Mr. Zucker said in response to a question from The Observer. "We will be the car companies. I don't want to go out of business. I don't want to be a company that's filing for bankruptcy."
Earlier, Mr. Zucker had pointed out that fixing the problems facing broadcast networks is about more than just focusing on prime-time entertainment. "Local media has obviously been hurt probably more than any other sector," said Mr. Zucker. "Can we continue to operate our television stations in the same way we have? We don't think we can."
How did he feel about the pace of change at WNBC, The Observer asked?
"I don't think it's happening fast enough, would be the real answer," he replied.
fgillette@observer.com