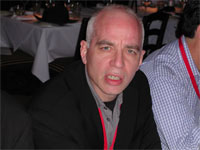 Earlier this morning, Media Mob spoke to Newser.com founder Michael Wolff, whose recently published Rupert Murdoch biography took a beating today at the hands of an angry Judith Regan in the New York Daily News. Mr. Wolff wondered aloud why after more than a year of refusing to talk to press, Ms. Regan had chosen this moment to "get back in the game." He speculated that Ms. Regan's sudden willingness to go on the record has something to do with the $10.75 million dollar settlement she received as a result of the spectacular defamation suit she filed in November of 2007 against News Corporation.
Asked to comment, Ms. Regan said in an e-mail that Mr. Wolff's claim is "absurd."
"Wolff is either frighteningly uninformed about everything or simply wants to spin facts in favor of defaming me," Ms. Regan wrote. "One false claim is that I just received my settlement and therefore am 'now emerging.' I received a settlement early this year (as reported in the media at that time) along with a full retraction of [News Corp's] outrageous and false allegations." She added: "I host a radio show at Siriux and XM. If I were in hiding as he claims, would I be hosting a radio show?"
Mr. Wolff also said this morning that it was he who gave Ms. Regan the idea to enter publishing after the two of them graduated from Vassar together as friends in 1975.
"We were friends for years and years… I think I probably deserve some of the dubious credit of getting her into the book business," Mr. Wolff said. "She had had a child, her life was in disarray… My counsel was that she should go into the book business because she wouldn't have to work that hard and could stay home and come up with a regular life and take care of her child. Then there was the question of, should she become an agent? I can't quite remember the discussions around this but I was very much involved in that."
"Once again Wolff is wrong," Ms. Regan said. "I have had no contact with him for decades. Now he's taking credit for getting me into the book business?"
Ms. Regan continued, "I worked 18 hours a day and raised a fine son who is kind, thoughtful of others, dedicated to his family, a world class athlete and has several degrees from MIT."