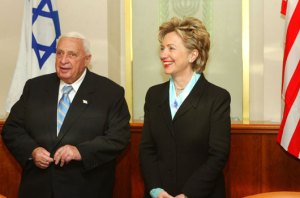 Who knew that Hillary Clinton was the great kosherizer?
During a Dec. 8 visit by a delegation from the New York State Assembly to Israel—one of the few places on earth that wasn't pulling for Barack Obama to win the presidential election—Prime Minister Ehud Olmert was asked what he thought of her nomination as secretary of state.
"He said that Hillary Clinton is a friend and a strong supporter of Israel," said Michael Miller, CEO of the Jewish Community Relations Council of New York, who attended the 45-minute meeting. "Her support of Israel is as solid as there is on Capitol Hill."
It's hard to find a self-identified Jewish leader who'd dispute that notion at this point, which is saying something.
Mrs. Clinton's first Senate race, New Yorkers may remember, was dominated for a long stretch by energetically delivered media stories about her feelings toward Israel, her (literal) embrace of Yasser Arafat's wife at a public event and even a dubiously sourced allegation that she once, in a fit of rage, called someone a Jew bastard.
Yet for pro-Israel voters and officials, her actions over eight years since then as the junior senator from New York have transformed her into a talisman, providing reassurance that Israel's interests will be provided for in an administration led by a president who received strong support from American Jews, yet whose calls for direct engagement with Iran still causes some concern in the Israel lobby.
"With regard to Israel, he hadn't served in the Senate a long time, and there were people who were questioning," said Representative Eliot Engel of the Bronx, a Democrat who was a prime sponsor of legislation to recognize Jerusalem as Israel's capital. "Not only the appointment of Senator Clinton, I think all of his appointments, are assuring to the Jewish-American community. But particularly the appointment of Hillary. I know her very well and I know that her commitment to Israel is unshakable and strong, and am I just delighted."
It wasn't always so. Early on in her New York sojourn, it was Mrs. Clinton who needed surrogate envoys to reassure Jewish groups that she had Israel's interests at heart, as when Chuck Schumer felt compelled to assure his audience at a fund-raiser that "she will just look to me" when voting on "Jewish issues."
And long before her calls to "totally obliterate" Iran if it attacked Israel—before her speech to AIPAC in February 2007 in which she called Iran's regime "pro-terrorist, anti-American, anti-Israeli," and before she accumulated a long list of Israel-friendly legislation and statements on her Senate Web site ("Senator Clinton Joins with Palestinian Media Watch to Release New Report on Continuing Anti-Israel Bias in Palestinian Textbooks,")—she was the candidate who kissed Suha Arafat in Ramallah.
"She has come a long a way in assuring people," said Representative Gary Ackerman, who chairs the House Foreign Affairs Subcommittee on the Middle East and South Asia.
Mr. Ackerman said he never personally doubted Mrs. Clinton's commitment to Israel, but that other, more skeptical Jewish leaders and voters had come around to his position during Mrs. Clinton's time in New York.
"As my mother, may she rest in peace, would say, 'Is this good for the Jews?' And the answer is, not only that, it's good for everyone," he said.