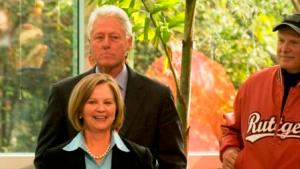 State Sen. Raymond Lesniak, the de facto leader of the Union County Democratic organization, says he viewed Republican Leonard Lance as the best candidate for Congress in the hotly contested seventh district race and wanted him to win over Democrat Linda Stender, a four-term Assemblywoman from Union County who had Lesniak's endorsement.
Speaking on the Senate floor yesterday on a resolution honoring Lance on his departure from the State Senate, Lesniak said: "Senator Lance knows I said to him before the election 'I really want you to win, Senator.' I didn't want to lose him in this body, but he by far was not only the best candidate, but he's earned it and he deserves it."
Lesniak's statement, which could be explained as post-election courteousness, underscores some substantial criticism by Democrats of Stender and her campaign – and could be another signal that the Union Democratic organization will back a different candidate for the State Assembly if Stender seeks re-election in 2009.
Lesniak wasn't the only Democrat effusive in his praise of Lance yesterday. One of the most ringing endorsements came from John Adler, who also won election to Congress last month: "I'm so enormously gratified to have the privilege to go to Washington at all, but to get to go there with Leonard Lance is such a special joy, and I'm so reminded each time I'm with you of what we're supposed to do in terms of responding to a higher angel. To be with him is a reminder of what statesmen and stateswomen are supposed to be like all the time. He wasn't in some ways a particularly good Minority Leader because he wanted to do what was right all the time. Senator Lance is what we're all supposed to be about all the time. He really gets what the real vision is of raising us up to a higher plateau."
State Sen. Joseph Vitale, a Woodbridge Democrat, offered kind remarks about Lance, but made it clear he voted for Stender and that he raised money for her campaign as best he could.