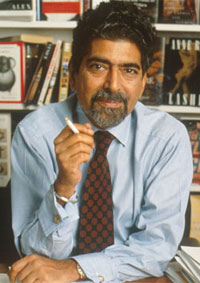 Who was left standing after Random House's reorganization? According to Leon Neyfakh, Sonny Mehta, whose Knopf now oversees several new imprints. "Whatever role Mr. Mehta had in getting what he got, the spoils reaped—from the unspeakably lucrative John Grisham franchise to the next blockbuster by Da Vinci Code author Dan Brown—were evident immediately."
Who brokered David Gregory's Meet the Press deal? According to Felix Gillete, it wasn't his long-time agent, Richard Leibner. "On Monday morning, with the deal finally made public, white-shoe New York law firm Cravath, Swaine, & Moore posted a brief item on its Web site, crediting two of its partners—Eric Hilfers and Robert Joffe—for handling the negotiations." Plus: Jeff Zucker's Challenge: Fire Them Before Cute Caroling Promo Spot.
John Koblin looks at the Times Company in the wake of its announced plan to use its headquarters to ease down its $400 million in debt. "The Times Company has only cut modestly from the newsroom at its flagship paper—they cut about 100 jobs back in February, long before the crash, and its newsroom remains, by far, the biggest newsroom for any newspaper in the country, with around 1,200 people. They are shutting down their print distributor, City & Suburban, which will mean job cuts for more than 550 people, and they eliminated the stand-alone sections of Metro and sports." Plus: No Bounce for Esquire in Its Anniversary Year.
Plus: Revolutionary Road… Sex and Food Face Off at Le Cirque… Obama's Internet Adventure.