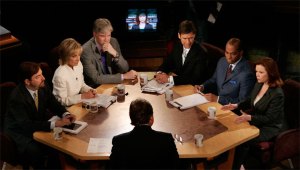 What are people saying about David Gregory, NBC News' heir presumptive for Tim Russert's job on Meet the Press? Felix Gillette talks to some who say things like, "He's got great instincts when it comes to what area of stories to probe…I don't think there's much of a learning curve when it comes to politics. He knows that world as well as anyone. He gets great stuff out of people" and "He can be an aggressive questioner—as he showed in the White House Press Room. He was a dramatic and good and persistent questioner. And he's not afraid to be disliked."
Is Tina Brown "like Schindler, in a skirt-suit"? That's what John Koblin calls her when it comes to bringing laid off writers into her Daily Beast. But what can they hope to be paid? Plus: January Groans: Mags' Lean Month Gets Downright Gaunt.
Can a 26-year-old consultant who took Columbia's Publishing Course and worked for a time at Little, Brown save publishing? Leon Neyfakh meets Eric Wolff, who says, "Truth is, there isn't a whole lot of reason for a big media company to own a book company unless it wants to be in that business… Corporations generally want growth stories, and there's no growth in books."
Plus: Missbehave's new editor… Superstar avatars… Murdoch the Magnificent.