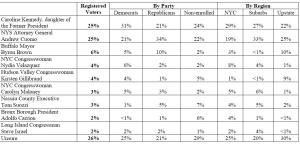 In a new poll from Marist College, New York voters are evenly split on who they want to see replace Hillary Clinton in the United States Senate, with 25 percent saying Caroline Kennedy, and 25 percent saying Andrew Cuomo.
Twenty-six percent say they're not sure who should fill the upcoming vacancy.
Among Democrats, Kennedy leads Cuomo 31 to 21 percent. Thirty-four percent of Republicans say they want Cuomo in the Senate, while only 21 percent of Republicans say that of Kennedy.
Here are how the rest of the talked-about contenders shake up among New York voters:
25-Caroline Kennedy
25-Andrew Cuomo
6-Byron Brown
4-Kirsten Gillibrand
4-Nydia Velazquez
3-Tom Suozzi
3-Carolyn Maloney
2-Steve Israel
2-Adolfo Carrion