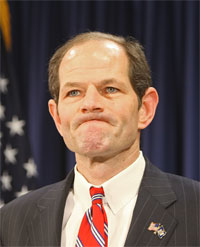 Media Mob has learned that former New York governor Eliot Spitzer will write a new column for Slate beginning tomorrow. The column will appear every other week and it'll be about government, regulation and finance.
"He's going to be doing a regular thing," said Jacob Weisberg, the editor-in-chief of the Slate Group. "It'll be heavily about the financial crisis and fixing financial markets and the economy generally."
The column will be titled The Best Policy.
Mr. Weisberg said that he was lobbying him to do it for months. Cliff Sloan, the former publisher of Slate, knew Mr. Spitzer back during their Harvard Law days, and Mr. Weisberg has known Mr. Spitzer for years. After Mr. Weisberg saw the former governor's editorial in The Washington Post on November 16, he decided to go after him hard. He convinced Mr. Spitzer and David Plotz, the editor of Slate, signed off on it.
"It was not an epic negotiation," said Mr. Weisberg. "He was very receptive to the idea. I don't portray this as something we had to coax him into. He's got a lot to say and he was very receptive to writing on the subject."
UPDATE: Here's Eliot Spitzer's debut column.