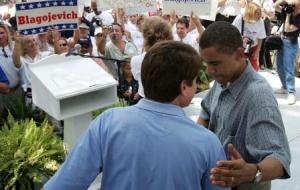 Illinois Gov. Rod Blagojevich was arrested today on federal corruption charges — he allegedly tried to sell Barack Obama's U.S. Senate seat — which means Obama's replacement in the United States Senate could be appointed by a man under indictment. Illinois state law provides for the Governor to fill vacant seats in the U.S. Senate, and short of resignation, there is no process for Blagojevich to pass that responsibility to anyone else. He could opt to leave Obama's Senate seat vacant.
Among the people that will need to deal with this public relations nightmare is New Jersey's Robert Menendez, the new Chairman of the Democratic Senatorial Campaign Committee.
One more footnote: If Blagojevich resigns and his running mate, Pat Quinn, becomes Governor, then Quinn would name Obama's replacement. That means two U.S. Senators, from Illinois and New York, would be appointed by unelected Governors.