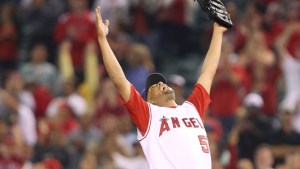 From the moment the Mets announced that Billy Wagner would miss the 2010 season, both fans and the media focused on the prize closer of the offseason, Francisco Rodriguez.
With the news that the Mets have agreed to a three-year deal with Rodriguez today, it is clear that New York came to the conclusion that K-Rod was a necessity, too.
With the addition of the finest closer on the market, the Mets have begun to repair both the largest issue with the 2008 team, along with the psychological damage inflicted by New York's bullpen. More work is needed. But with K-Rod alone last season, the Mets almost certainly would have been a playoff team.
The Mets managed to squander MVP-level performances by Carlos Beltran, Jose Reyes, David Wright, Johan Santana and even half a season by Carlos Delgado, thanks in large part to a comically bad bullpen. But while the relievers were a problem all season long, that problem was largely focused in the seventh and eighth innings.
Once Billy Wagner went down in early August, however, the problem spread to the ninth inning. Now, the Mets have secured a pitcher for those outs who could scarcely be more qualified: Rodriguez just set the major league record for saves in a season, with 62.
And while saves are only a marginally useful stat, it is worth noting that more predictive numbers indicate that the K-Rod deal is a solid one for the Mets. Rodriguez has a career strikeout rate of just below 11.7 per nine innings, which is sensational. Even with a first half that was a struggle only by Rodriguez's own previous standards, he still posted a season K-rate of 10.14, and in the second half, that number rose to 12.46.
There are plenty of other reasons that this signing is a best-case scenario for the Mets. For one thing, despite the likelihood that Rodriguez will dominate for the life of his contract, he is still a pitcher, with all the attendant injury risks. But by virtue of the economic slowdown, no other team had the resources and willingness to spend on a closer.
The Yankees have Mariano Rivera, of course, and the Red Sox have Jonathan Papelbon.
As a result, not only were the Mets able to lock in Rodriguez for a lower per-season rate than the Yankees gave Rivera last off-season, they were able to sign him for the same three-year commitment as Rivera—despite Rodriguez being more than a decade younger.
Rodriguez's age also means he slots in nicely with New York's other stars. Rodriguez will be 27 on Opening Day 2009, David Wright will be 26, Jose Reyes will be 25, and Johan Santana will have just turned 30—all should be in the peak of their careers. With secondary contributors like John Maine (27), Mike Pelfrey (25), Ryan Church (30) and should he re-sign, Oliver Perez (27) also in the sweet spot of baseball's aging curve, the Mets will have maximized their chances of cashing in on the best seasons of their core.
And for those concerned about a player's ability to handle pressure on the big stage of the postseason, Rodriguez even has that going for him. He has pitched to a strong 3.13 ERA in 31 2/3 postseason innings, with a remarkable 41 strikeouts—11.65 per nine October innings.
It isn't as if it much mattered if a Mets closer could pitch in the playoffs in 2007 and 2008. But K-Rod's signing makes it far likelier that such a talent will matter for the Mets in 2009.