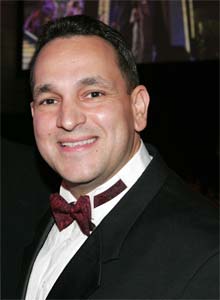 ALBANY—State Senator Malcolm Smith is not commenting on news that his fellow Queens Democrat and soon-to-be-colleague, Councilman Hiram Monserrate, is being held in connection with assaulting a woman earlier this morning.
Asked if Smith still accepts Monserrate's support in his bid for majority leader, Smith spokesman Austin Shafran said only, "We have no comment at this time."
An NYPD spokesman confirmed Monserrate is being held at the 105th Precinct, pending charges. He was arrested shortly after 4:30 a.m. in connection with the assault of a 30-year-old woman, the spokesman said.
Smith is banking on Monserrate's support to gain the 32 votes he needs to be elected his chamber's majority leader in January. Monserrate originally sided with a group of renegade senators who threatened to vote with Republicans, but eventually cut a deal with Smith.
This isn't the first brush with trouble for Monserrate. A reader passed along this report from 2001 that Monserrate was previously arrested for leaving the scene of an accident on the day before the Democratic primary (the primary, on September 11, 2001, was rescheduled.) Monserrate was also under investigation for his ties to Libre, a nonprofit organization to which he steered City Council funds.
A woman answering the phone in Monserrate's city council office in East Elmhurst said there was no immediate comment.
UPDATE: Around noon, Smith's office sent out this statement:
"These are very serious charges that will be addressed by the proper authorities. We will await the determination of these charges before we make any further comment," said Austin Shafran, spokesman for Senate Democratic Leader Malcolm A. Smith.