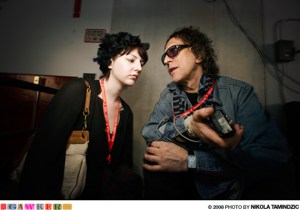 Sheila McClear, one of Gawker.com's three writers, has been fired.
Ms. McClear told us her layoff was characterized to her as part of a budget cut at the Web site, and was told that her page-views were lacking. She learned the news after she heard rumors that there would be further cuts at the company (19 people were let go back in October, and a few more last month) and asked her bosses directly if she had anything to be concerned about. After that, she was summoned to a conference room and told that she'd be let go starting in January.
She said she was told there would be no more layoffs at the Gawker Web site in this round of cuts.
We've been hearing some more rumors about belt-tightening at Nick Denton's network of Web sites; no doubt you can expect a long memo to go up shortly describing some of them.
Update, 12:07 p.m.: Mediabistro's Hunter Walker has some more details.
Also worth noting: On November 30th, The Frisky's Susannah Breslin nominated Ms. McClear for Best Female Blogger of 2008, writing, "McClear is more interested in covering the news than caterwauling about the patriarchy." Ms. McClear has also contributed to The Observer's Daily Transom.