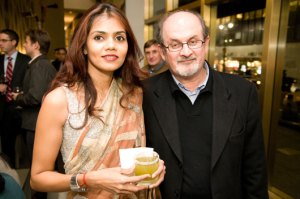 Ravishing Chicago restaurateur Rohini Dey perhaps felt a bit conflicted about opening her first New York eatery. She had full faith in the food. But the ambiance?
"The stakes are so much higher here, and every day the Dow sinks 300 points," noted the beautiful and brainy 40-year-old former World Bank economist–turned–gastronomist as she sliced into a zesty artichoke pakora last week. "So I was telling my investors we have to open the space before the Dow drops to 5,000!"
Backed by such big-name investors as novelist Salman Rushdie, publishing titan Sonny Mehta and Hotmail co-founder Sabeer Bhatia, Ms. Dey hustled to open her eclectic new Indian-Latin fusion restaurant At Vermilion in a matter of weeks last month, making only cosmetic modifications to the former Django space at the corner of Lexington Avenue and 46th Street.
Two days after her splashy Nov. 17 grand opening party, the Dow tumbled nearly 430 points to fall below the 8,000 mark, its lowest level since 2003.
The still unsettling financial outlook is enough to give anyone agita, especially a rookie operator on the grueling Manhattan food circuit. "I am typically not a big luncher," said Ms. Dey, passing up an entree after mustering the appetite for a few starters on Thursday afternoon.
Her fledgling location must now compete for dwindling diners' dollars in an already cutthroat business climate. Yet, she quickly discovered an upside to the downturn. "I think this is very counterintuitively a fabulous time to be getting great leases," gushed Ms. Dey, who was seated at a corner table looking out on her spacious new digs.
At 12,000 square feet, the two-level, 300-seat venue, hung with oversize black-and-white portraits by famed Indian fashion photographer Farrokh Chothia, is four times larger than Ms. Dey's original Vermilion location in the Windy City and even rivals the size of Big Apple behemoths Buddakan and Tao, which each generated sales of at least $20 million in 2007, according to the industry trade publication Restaurants & Institutions.
Ms. Dey thus hopes to make four times as much money on tandoori skirt steaks, blackened tamarind ribs and pani puri chaat margaritas in New York as she does in Chicago. But for now, she'll settle for some cut-rate start-up costs.
She signed a 15-year lease on the vast space in October at a steep discount off the original asking price—"a third less than I would normally have to pay," Ms. Dey said. "What typically would be at least $100 to $150 a square foot is nowadays $50 to $70. You can be very savvy in what you negotiate. There are huge advantages to doing it now if you're in it for the long haul."
A BIG IF. Certainly not every aspiring restaurateur can muster the same bargaining power as Ms. Dey. Her all-star roster of financial supporters also includes several executives at the prominent consulting firm McKinsey & Co., where Ms. Dey previously worked. (Her husband, Sajal Kohli, is a director and head of retail operations at the company.)
"My parents and in-laws were horrified," the self-diagnosed "dining-out junkie" said of her decision to quit consulting and open her own Chicago eatery in 2003. "There's no industry which has a worse rap. For good reason—90 percent failure. It's not a hot-shot corporate choice of career. You're not going to be a Fortune 500 CEO. Nobody understood the desire and people still, I think, question my sanity as I open this behemoth in a downturn."