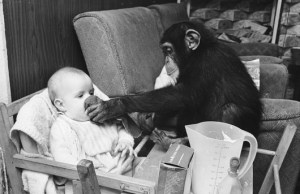 Nannies and housekeepers to the rich are the latest casualties of the crumbling economy, as the New York Times and The Wall Street Journal simultaneously reported today.
As wealthy professionals forgo bonuses, get laid off, and take pay cuts, they are also cutting back on "the help." Many foreign-speaking nannies' and housekeepers' hours have been reduced, some employers have posted ads for "nanny-shares," and some have simply let the nanny go in favor of hanging on to their Botox treatments.
One nanny, reports WSJ, recently showed up at a household help employment agency in Los Angeles after having her hours cut way back by a family who has employed her services full-time since 2004. Now she only gets called when the kids are sick or when their mother Suzanne Sirof, a stay-at-home mother married to a litigation attorney, is "under the weather." Now the nanny can't afford shoes for her two children and is behind on her rent and car payments.
Here's what happened when the nanny was laid off by Mrs. Sirof:
Ms. Monterrosa was there when she suffered a bout of depression and when she went on spa trips or outings to get Botox and Juvéderm injections, says Mrs. Sirof.
Mrs. Sirof's daughters took the separation badly. They inquired incessantly about "Vita," as they called her. Normally a lively child, daughter Addie became sad and withdrawn. A doctor Mrs. Sirof consulted suggested renewed contact with Ms. Monterrosa.
"I try to have Alba come once a week," says Mrs. Sirof. She says she feels "horrible" about laying off Ms. Monterrosa. But there are some perks she isn't willing to give up. "Nothing deters me from my Botox treatments."
Meanwhile, in New York City, the Times reports, a non-profit called Domestic Workers United estimates there are more than 200,000 nannies, housekeepers, personal chefs and other domestic workers employed in the New York metropolitan area.
One unnamed New York lawyer and her husband employ a housecleaner, two part-time nannies, and a dog walker. And now the lawyer, while feeling guilty about it, is considering cutting back the hours of the nannies–one of which makes $18 an hour–and dismissing the housecleaner. (No word about the dogwalker.)
"She doesn't do that great a job, but she has four kids and I know she relies on the money," the lawyer told the Times. This is the same housecleaner who once told her employer that she couldn't wait a few days for a check to clear. "If being late is going to affect her, imagine firing her."