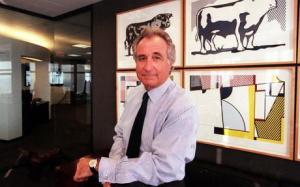 In this week's print Observer, my colleague Dana Rubinstein noted that the likes of Mort Zuckerman and Fred Wilpon were "just the beginning of what is likely to be a deluge of real estate heavies victimized by anti-mensch Bernard Madoff."
Indeed. The Times' Christine Haughney names more victims, including CB Richard Ellis' global brokerage chairman Stephen Seigel and massive landlord Leonard Litwin of Glenwood Management.
Then there's this grim gem from a higher-end shrink:
Kenneth Mueller, a Manhattan psychotherapist who counsels many real estate and financial executives, said those who lost money to Mr. Madoff called his indictment "the nail in the coffin for the commercial real estate industry," which had already been hurt by the recession.
Dr. Mueller said many patients were re-evaluating whether they can trust their business partners after Mr. Madoff's betrayal.
A lot of those inside real estate understandably do not want to talk to the media about Mr. Madoff and his effects on an already reeling industry. But there's sure to be more names in the weeks ahead. For now, the fallout, by and large, remains speculative but tangible: something will happen as a result, but the scope isn't yet clear.
Here was major landlord Bill Rudin, not a Madoff investor, in The Observer this week: "I think it's early to judge the impact, but I don't think hundreds of thousands [of feet] of space will come onto the market because of this."
But here's Eastern Consolidated's David Schechtman (also not an investor) from the other side: "The bad news that we're receiving on an almost daily basis is leading a lot of would-be buyers to stay out of the market."
In the end, then, the biggest Madoff fallout may be psychological.