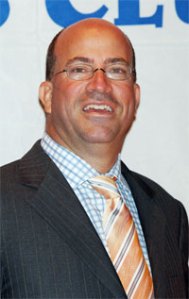 On Monday afternoon, NBC Universal chief Jeff Zucker appeared at the UBS 36th Annual Global Media and Communications Conference at the Grand Hyatt in Manhattan, where he delivered the day's keynote address to a banquet hall of lunching media entrepreneurs, investors, and bankers.
Over the course of an extensive Q & A session, Mr. Zucker spoke at length about the various ongoing challenges of "monetizing content" in an increasingly digital age. He said he was bullish about the future prospects of the media industry. But acknowledged that times were particularly hard right now in advertising and that, as a result, he is currently operating with a "safety first" mentality.
At one point, one of the conference attendees asked about the future of NBC Entertainment co-chairman Ben Silverman, given NBC's many programming flops this fall. (Last week, NBC purged three top executives in major shake-up at the network).
"With regard to the broadcast network and Ben, we have not had a good fall at NBC," said Mr. Zucker. "I don't think that is lost on anyone. Again, frankly, none of the broadcast networks have had a very good fall. Like I said, three of the top four are down double digits, year to year. So there's no question that none of us have really gotten it right this fall."
"That doesn't give me any comfort," he added. "We have particularly not had a good fall. It's been disappointing. I don't think that's lost on Ben or Marc Graboff, who run NBC Entertainment. They're aware that it hasn't gone well. But in no way have we lost confidence in either one of them, who are running that division."
At several points during the talk, Mr. Zucker reiterated the degree to which NBC Universal has shifted it composition of assets in recent years, diversifying its portfolio beyond mere broadcasting. He noted that six years ago, the company was 90 percent reliant on advertising. Today that figure, he said, had dropped below fifty percent. In 2008, according to Mr. Zucker, 60 percent of the company's operating profits will come from its cable networks—including, MSNBC, CNBC, USA, SciFi, Bravo, and Oxygen. "At our core, we're really a cable network company that drives the bottom line of the company," he said.
"It's a complete transformation of the company," he added.
A member of the audience asked about the current market for digital advertising.
"The one thing that people are still eager to have–but even in this area it's still down–is high-end video," said Mr. Zucker. "That's HULU, that's NBC.com, that's CNBC.com. But even that, if we're going to be honest about it, that market place has really slowed dramatically. I don't think we're going to be able to count on digital as the big growth engine in 2009, like people thought it was going to be."
"The most surprising thing to us is how fast the digital advertising market has come to a standstill in the fourth quarter," he added.