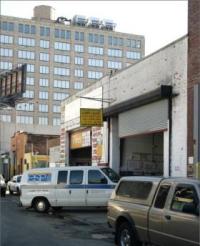 Plummeting economy be damned!
A developer called Abram Sabo filed plans on Thursday with the Buildings Department to erect a 14-story, 150-room hotel in the hinterlands of Times Square, at 612 West 47th Street — that's faaaar, far west, between 11th and 12th avenues.
We called Mr. Sabo to ask him what hotel chain he was working with, what he could be thinking, and the like. But he wouldn't answer our questions.
Given the financial climate, building a new hotel doesn't seem like the wisest of decisions. As The Observer's Chris Shott posted last week, occupancy rates nationwide plummeted annually in the first week of December.
Mr. Shott also reported:
New York City hotels experienced one of the largest decreases in revenue among all top 25 U.S. markets, earning 22 percent less than the same time frame last year — down to $283.01 per available room, according to the latest figures.