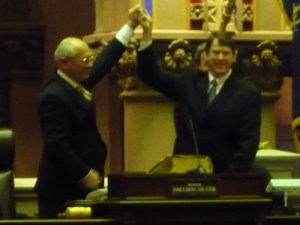 ALBANY—That's Paul Tonko with retiring Representative Mike McNulty, just before taking the oath of office to serve in Congress.
Democrats packed the Assembly chamber for an omnibus swearing-in ceremony. In addition to Tonko, Assemblymen Jack McEneny, Tim Gordon and Bob Reilly were sworn in, as was Albany County District Attorney David Soares.
Many local officials — including Schenectady Mayor Brian Stratton, whose father held the Tonko seat for many years, and Albany Mayor Jerry Jennings — were watching form the audience, as were many legislative staffers.
Corrected from an earlier version.