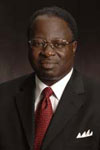 ALBANY—George Alexander, the chairman of the state division of parole, will resign amid allegations he was caught with a missing state-owned computer.
Those charges were first leveled in April by the office of Inspector General Joseph Fisch. A final report on the investigation found that "while Alexander claimed that he had forgotten about the laptop and that it had not been used since he brought it home, a forensic examination of the laptop showed that personal correspondence of Alexander's son, family photographs, adult content and other personal files had been deleted a day before he surrendered the computer to county officials. Regardless, the laptop was never utilized for proper purposes under the state grant and there simply was no legitimate reason for Alexander to possess this computer, much less bring it to his house."
The laptop was valued at $1,700.
Heather R. Groll, a spokesperson for the Division of Parole issued a statement saying "Chairman George B. Alexander has resigned as chairman and CEO of the Division of Parole effective December 20, 2008. Until an acting or new chairman is desiagnted, Executive Director Felix Rosa has been asked to manage the day-to-day affairs of the division."
The matter was forwarded to the Attorney General in June, according to the report, but Alexander has not been charged criminally. The Times Union is reporting he will likely be charged Monday.