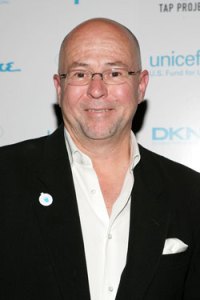 Remember when Esquire had that big, flashy cover back in October? It promised big things! "The 21st Century BEGINS NOW" shouted its cover line, and if you were lucky enough to have the electronic version, it flashed all night.
And now that we're finally a couple months into the 21st century, how does it look for Esquire?
Not that much fun.
The October issue was its 75th anniversary issue, which at most magazines would make it the issue that delivers a nice, big, fat bounce in revenue. GQ last year celebrated its 50th anniversary with a 6 percent spike in ad pages.
Esquire, however, has lost 14.56 percent in ad pages this year, according to Media Industry Newsletter, and neither the anniversary nor its flashy cover was able to deliver the kind of momentum that they might have hoped.  
"We had a lot of ads in the October issue, and if it hadn't been for the anniversary, we would have had a really bad last quarter," said David Granger, the editor, laughing.
The anniversary issue sold 170 ad pages, the biggest October issue in the history of the magazine. At the same time, after a rather extensive rollout campaign that included a story in The Times two months before it was released, and a Granger appearance on the Today show, it didn't do remarkably on the newsstand: It sold 140,000 copies, the second best issue of the year, but still trailing its Johnny Depp cover from January.
It kind of sums up its year.
"We didn't have as good a year this year as we did the previous four years, but we do everything we can to make this magazine work," continued Mr. Granger. "Advertising wasn't as strong across the industry as it might have been. Of course, it's mildly disappointing, but I've been in this job for 11 years and I've seen good years and bad years and I understand that's the way it goes."
The magazine's so-so year is on a par with plenty of other big monthly magazines (The Atlantic is down nearly 17 percent, and Vanity Fair is down almost 15 percent), but it is noticeable for the fact that it didn't do any better.
And some in the industry have pointed to its down year as a sign of its ambivalence in embracing the fashion world.
"As the men's category gets smaller and smaller and smaller, it's becoming more about fashion," said one former men's magazine publisher. "And the problem with Esquire is that it's caught somewhere between being a literary magazine and a fashion magazine."
In October, Condé Nast scaled back Men's Vogue to two issues a year, leaving the three biggest men's fashion magazines as GQ, Details (which lost 11.49 and 6.48 percent in ad pages, respectively) and Esquire. But Mr. Granger is, to some extent, ambivalent about being listed in that group. 
"The first meeting I had with a major fashion designer was with Giorgio Armani, and he told me that he completely understood what Esquire was—that fashion is an important component of it, that it's part of its DNA, but that he understood we were something different," he said.
"Fashion won't overwhelm the other missions of the magazine," he continued.
Esquire does produce The Big Black Book, an annual fashion guide that the magazine is selling this year for $11.95.
What about a pick-me-up for next year? Don't expect any flashy covers next year, he said. They're too expensive!
But Mr. Granger, who told Off the Record back in April that he's flirted with the idea of an origami cover, said that his February issue will let readers "interact with the paper."
jkoblin@observer.com