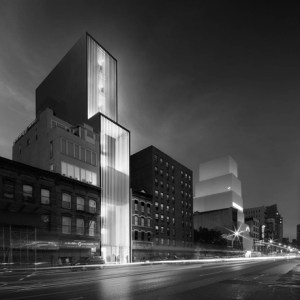 The Sperone Westwater art gallery, which works with artists like Bruce Nauman and Susan Rothenberg, has filed architectural plans with the city for its new Lord Norman Foster-designed gallery at 257 Bowery. The plans, filed yesterday, call for a 10-story building of almost 15,000 square feet.
According to a release issued by the gallery in November, Sperone Westwater will relocate from West 13th Street in December 2009, the move "prompted by Sperone Westwater's increasing need for larger and more flexible space…"
More from the release:
A distinctive innovation in the design is a moving exhibition space, a 12 x 20-foot moving hall that connects the five floors where works of art will be on view. The exhibition space allows visitors to move gradually between levels and will be a prominent feature along the Bowery, visible from the street, its gentle pace contrasting with the fast-moving traffic. At any given floor, the exhibition space can be extended by parking the moving hall as required. This "moving exhibit" will set a new standard in experiencing art and pioneer a novel approach to vertical movement within a gallery building.
…In speaking about the project, Norman Foster stated:
"The concept for Sperone Westwater Gallery is both a response to the Bowery's dynamic urban character and a desire to rethink the way in which we engage with art in the setting of a gallery. The moving exhibit Hall animates the exterior of the building and creates a bold vertical element within. Like a kinetic addition to the street, it is a lively symbol of the area's reinvention and a daring response to the Gallery's major program."