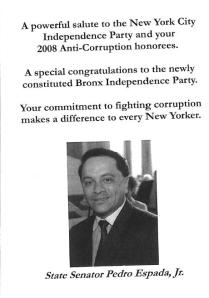 The city Independence Party – the faction aligned with the controversial Lenora Fulani – held its annual fund-raiser last week, and published a journal for the event.
Inside were a handful of ads from politicians who presumably had no qualms about being associated with the group.
This one is from Pedro Espada, the incoming state senator who is a Democrat but who, during a previous stint in the State Senate, had a close relationship with Republicans.
Other politicians with ads in the journal include Democratic Assemblyman Michael Cusick, Republican State Senator Marty Golden and Democratic State Senator Diane Savino.