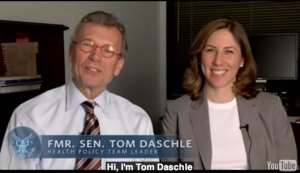 Talk about revenge of the nerds! If President-elect Barack Obama actually fulfills his promises to bring the White House into the Web world, the techiest among us may have the loudest voices of all when it comes to influencing our government. Because let's face it: It took a year to get used to Facebook. We use our iPhone to talk. If whitehouse.gov looks anything like Mr. Obama's transition Web site, change.gov, how long will it take us, not to mention your average Joe, to navigate his new, shiny "citizenship account"? The geeks are gonna get there first. In fact, they already have. And they're dreaming up the ways to bring Obama home to all of us, eventually.
Speaking of Facebook, Micah Sifry and Andrew Rasiej, co-founders of New York–based Personal Democracy Forum, a daily Web site and annual conference on how technology is changing politics, and the brains behind techPresident.com, are pushing for a very Facebook-like idea for Obama's whitehouse.gov site. Your profile, automatically created at age 18, would display your voting district and connect to local representatives. A news feed would announce public hearings, new YouTube videos of the president's weekly address, and updates on specific issues you care about. "Sky's the limit," said Mr. Sifry.
They hope Mr. Obama can convince the public to channel the energy wasted on inconsequential Internet tendencies into getting involved in government. "The thing with Obama is his idea of the audacity of hope," said Mr. Rasiej. "He has the audacity to think that .gov could be just as important as .com."
It's true that during his campaign, Mr. Obama proposed creating a more open, transparent government with Web tools. He promised online videos of previously closed-door meetings (exciting! move over, C-Span!); searchable databases on lobbying reports, ethics records and campaign finance filings; and a platform for public comment on bills he's about to sign into law. His new media team is already experimenting with these ideas at change.gov.
Late last month, for example, they added a "Join the Discussion" feature, which allowed people to comment on the issues deemed most important by Mr. Obama, like the economy and health care. The forthcoming Health and Human Services secretary, Tom Daschle, looking professorial in his round, Sally Jessy Raphael red glasses, responded directly to about three of the more than 3,500 comments, via a video posted on Dec. 2. In the clip, he noted points about cost reduction and preventative care, and even seemed slightly affected by one story of struggle. "It was stories like that, probably more than all the factual information, that really moved you to want to act," he said. Mr. Daschle insisted that he will be taking ideas from the comments, but he didn't give specifics. Plus, the video has the look and feel of a scripted infomercial, rather than a useful document for the transition team. But … Mr. Obama's people are listening, and maybe that's what counts.
Just last week, on Dec. 5, transition project co-chair John Podesta announced a "Your Seat at the Table" transparency project, which will take all the written recommendations and policy documents generated from official meetings with outside organizations—from lobbying groups to think tanks—and publish them on change.gov, along with room for public comment. "Moving Toward a 21st Century Right-to-Know Agenda," a 112-page policy recommendation document compiled by more than 65 groups and hundreds of tech-savvy individuals, was one of the first documents posted for review.
But future plans for whitehouse.gov, and how the civic-minded among us can use it, remain uncertain. As former Bush adviser Karl Rove recently pointed out in The Wall Street Journal, it's not clear how he can legally use his database of campaign supporters, which includes 13 million email addresses and two million profiles created at his campaign home page.
"There are statutory prohibitions on the White House from using tax dollars to directly lobby Congress by unleashing emails, calls and visits. That's up to outside groups to do," he wrote. "Such strong-arming irritates allies, infuriates fence sitters, and enrages opponents in Congress. Lawmakers dislike grassroots lobbying by those representing people in their states or districts. They'll be livid if the White House facilitates it."
But who's to say Mr. Obama needs any help from his former campaign supporters? He's already building a new network of citizens on change.gov. It's Obama's Web 2.0.
STILL, THE OBAMA CAMP is perplexed about the possibilities. This past weekend, hundreds of his staffers and volunteers huddled in a Chicago hotel to draw up a plan for the network. As of press time, nothing specific had been announced (UPDATE: Although some ideas are leaking out). Perhaps they could use a few more ideas? Tech enthusiasts from Craig Newmark of Craigslist.org to Net rights warrior Lawrence Lessig have a few.
"I think what people really want is to know that they're going to be able to take the resources and be able to do other things with it," Mr. Lessig told The Observer by phone.
Mr. Lessig, the Stanford professor, voracious defender of Net values and author of the recently published Remix: Making Art and Commerce Thrive in the Hybrid Economy, advocated for one of change.gov's most recent policies. Last week, Mr. Obama's new-media team dropped their "All Rights Reserved" notice and copyrighted the site's content under the Creative Commons Attribution 3.0 License, which allows users to copy, distribute, display and perform material from the site (in other words, remix it) as long as the work is attributed to its source.
Mr. Lessig also wants to make sure that whatever whitehouse.gov turns out to be, it's not controlled by one entity, "you know, the Googles or YouTubes of the world," he explained.
"The fear is that people think that the campaign thinks they have the formula," he added. "And the formula was, a proprietary software company Blue State Digital, writing software that kept everybody inside the walled garden of BarackObama.com. … The thing they need to think about is how they're going to create a kind of participation that's going to earn them respect, even if it doesn't give them a perfect opportunity to control every turn of the news cycle."