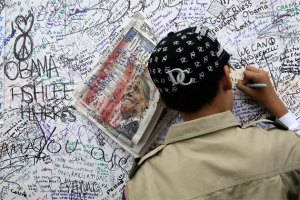 Details are beginning to leak out about this past weekend's summit of President-elect Barack Obama's key organizers during his campaign. They met in a Chicago hotel this past weekend to brainstorm on what to do with the huge grassroots network and how they can continue to mobilize their online and offline organizers during the new administration. Micah Sifry of TechPresident.com points us toward a post on the YesWeCanRacine website from Tony Loyd, an organizer from Racine, Wisconsin:
Here are the outcomes of the meeting.
1. There is a process that is still forming, based on your input. Let's be honest: we're making this up as we go along. We want to take the time to get this right.
2. The process has been and will continue to be open and transparent. We're trying to make sure you hear about this from us instead of read about it in the press, though I understand that word is already starting to leak out.
3. The first step was to gain feedback from the field about what you want from this organization. We have already heard back from over 500,000 people. The first steps of forming this organization are being strongly influenced by the survey results.
4. Please be patient. You may have heard the president say that he is going to move with "deliberate haste" in the transition. In the same way, we're moving with deliberate haste in forming the new organization.
Our goals will be as follows:
1. Legislative Priorities – We will use the organizing principles of the campaign to rally support for the legislative agenda. Though we do not yet have a legislative calendar, count on an economic stimulus package in early January and be ready to take massive action in support of that priority. Expect similar action on health care, energy and the environment to follow. I'm sure we will hear more about the priorities in coming days.
2. Electoral Organizing – Let's use the organizing model to rally behind and support candidates. Perhaps you will want to consider running for office yourself. Or perhaps we can find someone else who shares our values and put them forth.
3. Civic Engagement – During the election we tapped into a deep well of volunteerism that can be applied to local issues from hunger and homelessness to education and the environment. For example, there are homeless families here in Racine County who need our help.
4. Promote two-way Conversation – It's important to realize that this is not a monologue but a dialog. The campaign is sincerely interested in your input. We spent a majority of time at the conference looking backwards at what we did right and what could have been done better. Jon Carson was present for all of these conversations. He and the leadership team want your input.
Mr. Sifry notes that despite this meeting and the fact that Chicago is open for questions at change.gov, "they have a long way to go before we can fairly call this a two-way conversation."