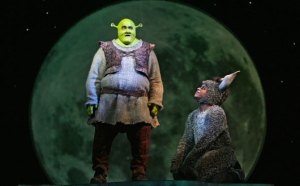 Broadway must be the only industry in America that hasn't noticed the country is in an economic crisis. Its powerful producers and theater owners aren't just refusing to acknowledge reality. They've even got the chutzpah—or the manic greed—to increase ticket prices.
Take the price of an orchestra seat for the new hit musical Billy Elliot. It's currently an extortionate $146 for the holiday season. The public subsequently catches a break in the New Year, but the cost of all its orchestra seats will still be a record $126.50 (which increases magically to $136.50 on Saturday nights).
Crisis? What crisis?
I VERY MUCH ENJOYED the fun and wit of Shrek, which has just opened at the Broadway Theatre, and I'd happily recommend it to anybody. But all Shrek's orchestra seats are $111.50 ($121.50 on weekends). The cheaper seats in the rear mezzanine are $86.50, and even further back, $41.50. (That's as far back as you can go.)
Shrek—I need hardly remind you—is a family show. There are no reduced tickets of any kind for children.
What on earth are its producers thinking? The last thing they're thinking about is folk who love the theater but can no longer afford to go. They're thinking of profit, of course (and more profit). And, like the opportunistic producers of Billy Elliot, they believe they'll get it.
Would it kill Shrek's producers—which includes DreamWorks Theatricals—if they at least introduced half-price tickets for kids?
Disney Theatricals is the only producer on Broadway to take a bold initiative. Disney has announced a sale for all its shows—Mary Poppins, Lion King and Little Mermaid. For all performances Jan. 6 to March 13 (traditionally the bleakest months for Broadway business, economic crisis or no), buy one full-price ticket and bring a child free. (The sale ends on Dec. 23 at one minute to midnight.)
It might be said by cynics that the Disney shows aren't as hot as the newly opened Shrek or Billy Elliot. Maybe so; but who else is giving the beleaguered public a break?
To be sure, discounted Broadway tickets can usually be found by scrambling round the Web or trying your luck at TKTS on the day of a performance. It's as if a discounted ticket is a secret vice. The importance of the Disney initiative is that it's the first production company in the recession to openly advertise reduced ticket prices.
What usually happens is the reverse: the scam of ticket prices inflated by stealth.
Let's imagine you go on a family treat of four—two parents and two children—to Shrek. You sensibly refuse to pay for Premium Tickets at $301.50 each, but you've decided to go on the weekend (rather than a school night) and so pay $486 for four orchestra seats. The good news is the ticket price includes a "facility fee" of $1.50 each, which is basically for going to the toilet.