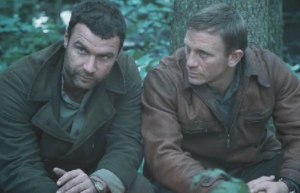 This year won't be remembered as a great one for Hollywood. But then again, you could probably say that about every year in Hollywood, where the failure to live up to expectations is as annual as the seasons. Still, there was plenty to get excited about—even with the economy on life support, it turns out people are still going to the movies! The Dark Knight will close the year as the second highest grossing film of all-time, while Iron Man, Indiana Jones, Wall-E and Hancock will all place in the top 70. Plus, this holiday season has brought us surprise hits like Marley & Me, The Curious Case of Benjamin Button, Bedtime Stories, Valkyrie and even Yes Man; all movies that will top, or will come close to topping, $100 million. Who knew 2008 would turn out to be so lucrative? The year draws to a close with two boutique releases, so if the showing of Marley & Me that you want to hit is sold out, maybe one of these will suit you.
Good
What's the story: This was supposed to be "the other Viggo Mortensen movie" in 2008, but with The Road sent to the hell of shifting release dates, Good has to suffice. There hasn't been a lot of heat surrounding the movie, but it really does look excellent … so long as you're prepared for a morality tale centered on the Holocaust. Mr. Mortensen stars as a German professor who is asked to join "the party" in an effort to further his career. What harm could it do, right? As his pretty wife says, "Everyone looks so happy; anything that makes people happy can't be bad, can it?" Maybe she should ask Mr. Mortensen's friend, a Jewish therapist played by the forever underrated Jason Isaacs. Good asks powerful questions about compromise and loyalty, but chances are no one will see it. Eventually, though, you'll Netflix it, love it and bemoan the fact that you missed it in theaters.
Who should see it: People who aren't interested in seeing Tom Cruise play a Nazi.
Defiance
What's the story: Because one Holocaust movie wasn't enough, here comes Defiance. Ed Zwick's latest has all the earmarks of both a box office hit and an Oscar favorite. The trailer is heavy on action and spectacle, and the story of the Bielski brothers and their survival with over 1,000 other Jews in the woods of Nazi-occupied Poland is the type that usually tugs the heartstrings of awards voters. And yet, Defiance is being dumped on the last day of the year to qualify for the Oscars in an act of pantomime; even Paramount Vantage can't believe that this will garner one nomination. Still we wouldn't be surprised to see it become a moderate success once it gets a wide release in mid-January. It does star James Bond after all.
Who should see it: People who aren't interested in seeing Tom Cruise play a Nazi.