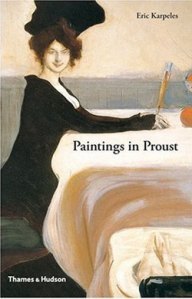 What to give literati who have everything? Eric Karpeles' Paintings in Proust: A Visual Companion to 'In Search of Lost Time' (Thames & Hudson, $45). If the reader in question is already hooked on Proust, Mr. Karpeles' gorgeous book is guaranteed to please; and if he or she has yet to plunge into the seven volumes of À la recherche du temps perdu, it may provide the needed push.
The idea is simple and inspired: Every time a specific painting is mentioned in the novel, reproduce the painting, with relevant detail enlarged (the famous "little patch of yellow wall," for example, in Vermeer's View of Delft). If a painter is mentioned but not a specific painting, show a representative work. Altogether Mr. Karpeles shares more than 200 paintings with us (the quality of the reproductions is excellent); he provides context and the relevant page numbers—for both the Moncrieff-Kilmartin-Enright translation and the Pléiade edition.
Authoritative, intelligent, amusing (don't miss the footnotes), Paintings in Proust can be enjoyed without prior exposure to Proust—though as with so many things in life, the more you know, the more fun you'll have.
A LESS EXPENSIVE alternative is Jean-Claude Bologne and Elisa de Halleux's Love in the Louvre (Flammarion, $19.95), a trim, charming, sexy selection of 30-odd works of art, some famous, some not, from the museum's immense collection.
Many of the works—mostly paintings, with a sprinkling of sculpture and objets—are meant to titillate. Boucher's Odalisque, with her bounteous bare bum, is perhaps the best example of unabashed come-hither. Others combine violence and sex (Ingres' Roger Delivering Angelica), or sorrow and sex (Rembrandt's Bathsheba at her Bath with David's Letter), or menace and sex (Watteau's The Faux-Pas).
The descriptions of the individual works provided by Ms. de Halleux are brief, informative and perceptive. Ignore Mr. Bologne's pretentious theory-laden introduction, in which he declares, "First and foremost, the works in this volume should be seen as an invitation to change our opinion of what constitutes love." Gallic piffle.
Curiously, Love in the Louvre doesn't go on sale until Jan. 13—late for Christmas, early for Valentine's Day. Well—great art is eternal.
RICHARD HAW'S ART of the Brooklyn Bridge (Routledge, $50) makes a strong case for the first link between Manhattan and Long Island as the man-made object with the richest visual history. It's seemingly irresistible to artists of every stripe, and Mr. Haw, author of The Brooklyn Bridge: A Cultural History (2005), has collected a vast horde of images, from snapshots to panoramas. The accompanying text provides a history of the bridge from its planning and construction (1867–1883) to the present day.
As a package, Art of the Brooklyn Bridge has the manic feel of a lifetime obsession, but it's nonetheless engrossing, a magnet to the eye, the kind of book you have to force yourself to put aside. Every few pages there's an arresting image, and of those, at least half a dozen are masterpieces: the impressionist canvases of Childe Hassam; a small, lovely watercolor by John Marin; a cubist drawing by Albert Gleizes; black-and-white photographs by Karl Struss, Walker Evans, Henri Cartier-Bresson and William Gedney; and the magnificent paintings of Joseph Stella, who eventually turned the bridge into a high modernist altarpiece.
Modernists clearly delighted in the bridge—all those cables superimposing abstract design on the city, the river, the sky—but more recent movements don't seem to capture it with the same gusto. You'd think a pop artist would make a meal of so famous an icon, but Andy Warhol's centennial Brooklyn Bridge (1983) is no great shakes. Robert Indiana's Silver Bridge (1964–1998) is coldly cerebral and distinctly unimpressive. Ellsworth Kelly's elegant black-and-white canvas Brooklyn Bridge IV (1956–1958) is entirely abstract—only the title gives away the game.
Though Mr. Haw's principal business is with visual artists, he slips in a few quotations from writers. One of the best is from Brooklyn's own Jonathan Lethem, from his novel The Fortress of Solitude (2003): "The bridge was an argument or plea with space."