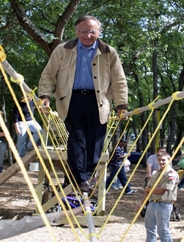 Yesterday the city Board of Election dealt a blow to Jim Gennaro's remaining hopes of catching incumbent State Senator Frank Padavan in a recount of their close election, voting "to uphold, formalize and finalize" a prior ruling that prevented about 2,000 ballots from being counted that might have overturned Padavan's lead in the race.
In a statement late yesterday, Republican spokesman Joe Conway said he was "thrilled" that Padavan has, finally, been declared the winner.
Conway went on to say, "Now that the Board has done so, it's clear that this election is over Senator Frank Padavan must be seated prior to the Legislative Session beginning in January."
Gennaro's supporters are back in court Tuesday to try to overturn that. Gennaro spokesman Mike Barfield said they're "waiting for a fair and impartial review of as many as 2,000 disputed ballots."
UPDATE: This item was corrected from an earlier version, where I jumped the gun in saying the matter was over. Obviously, it isn't.