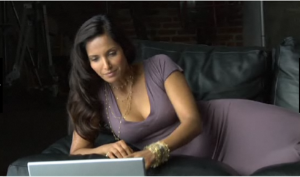 What's Padma Lakshmi's favorite part of The New York Times' Web site? According to a video of the model-turned-author- turned reality competition hostess, it's Bill Cunningham's 'On the Street' audio slide shows. (Weirdly, she does not mention the Books section where she might be at risk of running into her ex-husband, Scarlett Johannson-nuzzling author Salman Rushdie.)
Ms. Lakshmi's video is one of several celebrity testimonials for the paper's Web site included in a new nytimes.com campaign called Conversations, which a press release put out today announces as:
[A] new marketing campaign (
nytimes.com/conversations
), designed by The Times's marketing team to illustrate the depth of the site's many offerings from its high-quality journalism and extensive multimedia features, to the scores of interactive extras available to readers.
If the sight of Ms. Lakshmi reclining in her purple dress and bangles doesn't make you want to click on The Times' site over and over again, how about… Economist-turned-personality Ben Stein and a gorgeous Weimaraner?