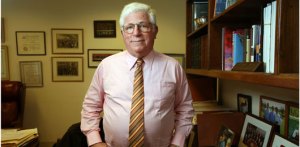 Flanked by Governor Paterson and Mayor Bloomberg at a midtown press conference, former M.T.A. chairman Dick Ravitch unveiled a package of proposals intended to rescue the authority from financial disaster. Among other recommendations, Mr. Ravitch called for a new regional employer payroll tax of $0.33 on every $100, tolls on all the free bridges over the East River and Harlem River, and a constant two-year fare increase tied to inflation.
"There should be a regular, recurring revenue stream that is inflation sensitive," said Mr. Ravitch, who led a commission that came up with the recommendations.
The payroll tax would bring in about $1.5 billion a year, according to Mr. Ravitch.
The new revenue is intended both to help alleviate giant budget gaps at the M.T.A.—which is $1.2 billion next year—and to partially fund the agency's upcoming capital plan of $30 to $35 billion.
The report also called for a number of structural changes, most notably a fare increase essentially tied to inflation, similar to a measure the Port Authority recently instituted, that could occur every two years. The intent, Mr. Ravitch said, was to remove the fare increase from a political process that inevitably accompanies it and rarely produces results based on sound policy.
"The political circus that surrounds the fare increase process," he said, "produces distorted results. And we deferred fare increases in 2004 and 2007, and we're paying the price for that today."
The proposal would make the chairman of the M.T.A. a powerful, paid position—a position that currently belongs to the executive director—and create two new authorities, a capital finance authority to oversee the new revenue, and a regional bus authority.
Unlike the failed congestion pricing proposal put forward by Mayor Bloomberg in 2007, the Ravitch proposal seems to be offering a few carrots to governments outside of the five boroughs, as the M.T.A. would take over the obligations of regional bus services, some of which are now paid for by counties.