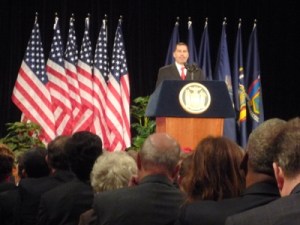 ALBANY—In an address to policymakers unveiling his 2009-10 budget this morning, David Paterson echoed the words of another New York governor, Franklin D. Roosevelt, who said that the Great Depression was "the time to speak the truth, the whole truth, frankly and boldly" 
"On July 23rd, we warned all New Yorkers that we would have the worst fiscal crisis since the Great Depression," Paterson said as he asked lawmakers to pass the budget by March 1– instead of,as usual, April 1–to save $1.3 billion.
 "We in New York State government have an immense opportunity if we look at what is in front of us, what we can accomplish, and what we want to restore," he said during a 17-minute speech. "I want us to be optimistic. I think we can come back to Albany and we can take responsibility and take control of this budget, and we can take over Saturday Night Live."
The first round of laughter.
The first cost-saving measure Paterson brought up was the need to consolide state agencies.
He drew his first (albeit tepid) round of applause with talk of reforming the state's Empire Zone program.
Paterson also implored the gathered legislators to engage in real dialogue instead of delay. "Endless ridicule of what would be a budget that is imperfect but purposeful is not helping this administration," Paterson said.