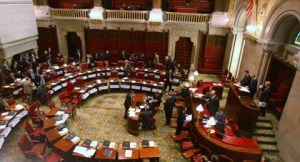 ALBANY—Even by Albany's standards, the potential appointment of Pedro Espada Jr. to Senate majority leader is something of a standout by good-government standards. And not in a good way.
Espada owes $60,000 in elections fines related to a 2001 run for Bronx borough president (he is appealing the judgment) and hasn't filed the necessary campaign paper work for this election season.
His new title – majority leader – was historically held by the senator in charge of setting the agenda for the legislative body. It seems under the details of an agreement reached last week, those powers and responsibilities will fall on Malcolm Smith, currently the chamber's minority leader.
Smith was asked this morning about Espada on Fred Dicker's morning radio show. "He's telling me that he's dealing with it," Smith said, adding that he trusts the voters in the district. "I first have to find out if the problem is real."
In a column before the general election, the Daily News' Bill Hammond re-hashed Espada's history of flipping parties and scrutiny of the health center he runs.
"By rights, Espada's fellow lawmakers should be treating him as a pariah," Hammond wrote. "Yet he is looking forward to being the belle of the ball when he gets back to Albany."