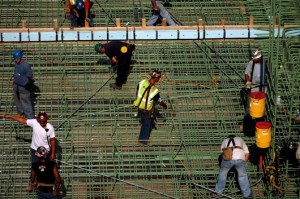 The Port Authority of New York and New Jersey failed today in an attempt to sell $300 million in bonds, a large offering that was met with zero bids. The failure seems to speak more to the continued glacial freeze of the credit markets than it does to the economic stability of the Port Authority, as the credit agencies still gave the agency high ratings.
Regardless of the reason, the fact that the authority was unable to sell bonds could mean big trouble down the road if the agency continues to have such problems. The $30 billion capital plan requires that the agency continually sell bonds to finance the construction of its major projects, including the Freedom Tower and other projects at the World Trade Center.
The agency, in a statement, said the bond offering was done in advance of when the money is needed.
Full statement below:
The Port Authority today tested the financial markets by offering a competitive sale of $300 million in short-term notes, and received no bids. The transaction was held well in advance of the need for capital funds, as is the Port Authority's standard practice, and the lack of bids will have no impact on any current Port Authority capital projects. Our credit ratings and our financial health remain strong, with Standard and Poor's and Fitch Ratings Inc. just in the last week reaffirming AA- ratings, and Moody's just reaffirming Aa3 ratings, and we are confident that the markets will recover in the upcoming year when we plan to return with another sale.