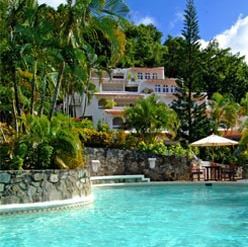 Via BlackBook, we've learned of a shockingly under-publicized offer from the very good (or potentially very clever) people at Elite Island Resorts in the Caribbean. The hotel consortium, which has locations in Antigua, St. Lucia, the Grenadines, and Tortola, is offering victims of the recent market crash a chance to spend their vacation days outside of their apartments this year by accepting payments of up to a maximum of $5,000 in stock.
We know, the current value of your portfolio isn't enough to finance a trip to Coney Island, which is why Elite Island Resorts will be using the stock's July 1, 2008 value. For example, "If one transferred American Express stock, which closed at approximately $20 on December 1, 2008, toward the purchase of their vacation, Elite Island Resorts will value the stock at $40 per share in resort credit." That's half off!
Of course, there is an obvious catch: no take-backs. So, assuming things stabilize (they're only accepting payment from a list of around 100 approved stocks), short-sighted vacationers may find themselves regretting their holiday down the line. Though, for the very pessimistic–or maybe just those in desperate need of a vacation–the offer might be worth looking into.